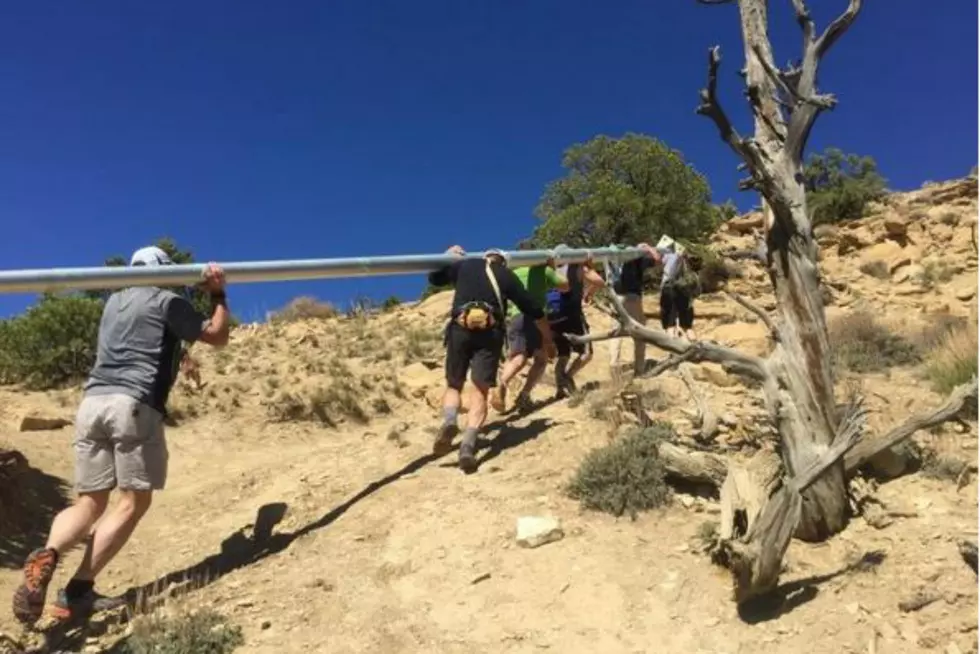 The Story Behind Mt. Garfield's New Flag
Laura Barsland & Karen Jensen
Mt. Garfield has a new flag at its summit. This is the work of a number of determined Western Colorado residents. Here's how it happened.
A group of 11 people, who up until now remained anonymous, carried out the operation on their own. The goal was to have the new flag and pole in place in time for Memorial Day.
On May 22, 2017,  the crew consisting of Steven Anthony, Laura Barsland, Jason Emberger, Jacob Gardner, Dan Grisham, Dave Jensen, Karen Jensen, Joe Klemmetsen, Anthony Saturno, Corbin Shipp, Paul Siegrist, climbed Mt. Garfield with the materials.
Take it from me, climbing Mt. Garfield is no walk on the beach. It's a fun but strenuous climb. Imagine what it would be like carrying a giant flag pole.
The new mast comes in at 33 feet and is equipped with a solar light at the top. The current flag comes in at 4' X 6'.
Ultimately, the crew will replace the 4' X 6' flag with a larger one. For the moment they are testing the stress on the flag pole. This particular site is extremely windy, even under normal conditions.
Thank you to this intrepid crew. They have carried on a tradition set in motion at least 40 years ago. When it comes to those who have taken on the responsibility of placing the flag at this site in the past, Dan Grisham said, "We have no idea who the 'Filthy Few' were, but we are happy to pick up where they left off."
More From 99.9 KEKB - Grand Junction's Favorite Country