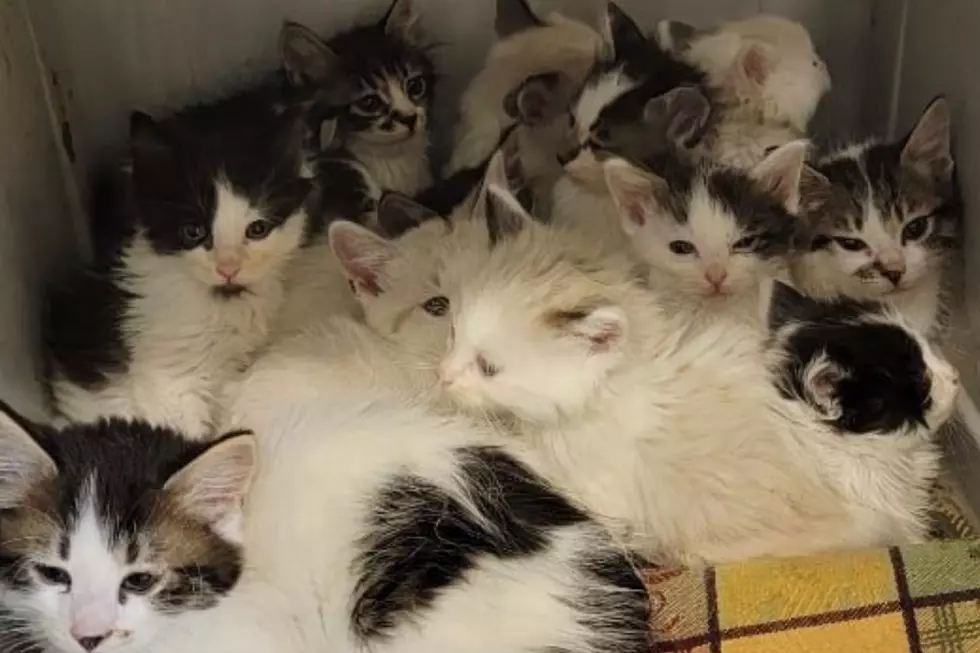 16 Kittens Abandoned Outside Grand Junction Colorado Shelter – Foster Homes Needed
Roice-Hurst Humane Society via Facebook
Yesterday morning, April 28, 2022, 16 kittens were found in a carrier outside of the gate at Grand Junction, Colorado's Roice-Hurst Humane Society. Can you offer a Foster Home?
If you have a few extra square feet in your home and a little love to offer, these kittens sure could use it.
Abandoned Outside Roice-Hurst Humane Society in Grand Junction Colorado
Thursday morning, April 28, started out a little rough for a bunch of kittens. Imagine being abandoned outside a shelter.
What's needed now are Foster Homes.
How to Foster a Pet in Grand Junction Colorado
What is involved with fostering a kitten? According to a Facebook post from Roice-Hurst Humane Society, "All you need is a spare room or bathroom and lots of love to give! We provide the supplies and vet care."
Wait a minute! That's it? They provide supplies and vet care? Yes, that is the case. I've fostered a kitten before, and it was awesome. All that was needed was:
Safe space, namely a bathroom
Time and attention
and.... as I recall, that was it.
How To Sign Up to be a Foster Family
If you visit Roice-Hurst Humane Society's official webpage, you'll find the Foster Care Program application. The page states, " Foster care is a temporary arrangement in which a shelter animal is cared for in a volunteer's home prior to adoption. Our foster program allows dogs and cats to receive specialized care beyond what we can provide in the shelter."
The application is very basic, doesn't ask anything too personal, and requires only moments to complete.
Imagine being a young kitten abandoned outside a gate. This is a rough way to start a life. Each of these kittens has a long life ahead of them. Please help them get back on the right foot. If you can't foster, please consider donating.
Grand Junction Colorado Animals - Robert Grant Photos
Here's another gallery of Robert Grant photos from Grand Junction, Colorado's past. With this gallery, the focus is on animals - domesticated to wildlife, and everything in between. These images range from the 1950s to the 1970s.
Grand Junction Horses of Yesteryear - Robert Grant Photos
Please enjoy a number of Bob Grant photos from the Grand Valley's past. These came from a box labeled "Horse." Yep, that's it, the box was called "Horses." These were selected at random, covering a number of decades.
Exotic Animals You Can/Can't Own In Colorado
More From 99.9 KEKB - Grand Junction's Favorite Country