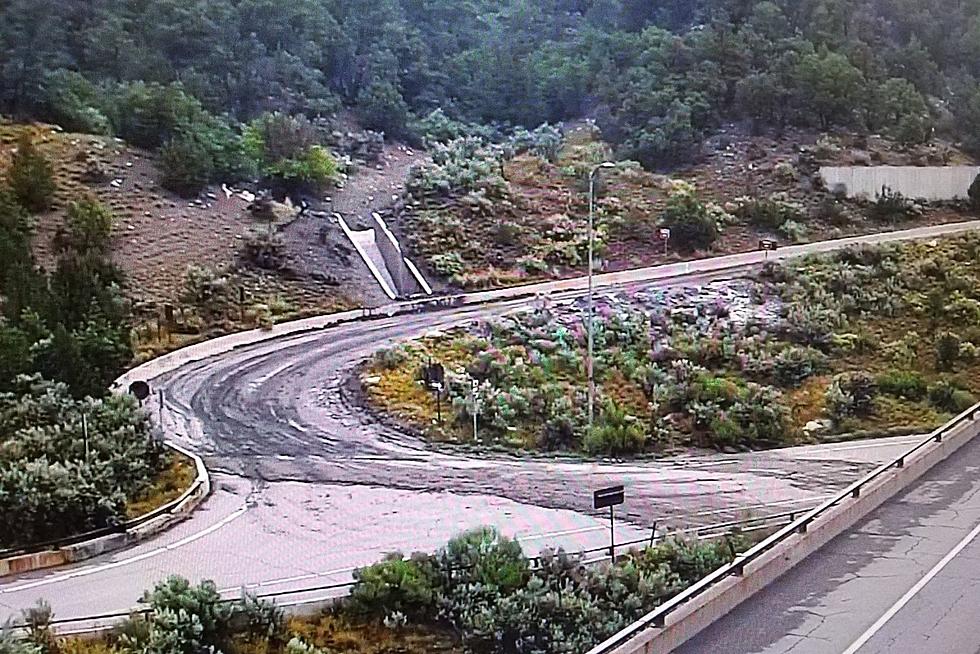 I-70 Closed Again in Glenwood Canyon, Significant Debris Flows
CDOT via Facebook
For the ninth time this summer, Interstate 70 through Glenwood Canyon in Glenwood Springs has been completely shut down.
Extended Closure
The latest extended closure started at 4:30 Thursday afternoon. Two hours later the Colorado Department of Transportation reported debris flows had occurred in several sections of Glenwood Canyon. Officials gave no estimated time of reopening as crews were assessing the debris flows and motorists were being advised to use the alternate route via Steamboat Springs. The closure earlier this week lasted about 24 hours.
Debris Field Concerns
One area of particular concern was at mile point 124 where a debris field was blocking the Colorado River about a mile west of the Hanging Lake Tunnel. The road reportedly was not impacted at this point, but CDOT engineers were on sight to evaluate possible structural damage. Cinnamon Creek, located above the Hanging Lake Tunnel complex also experienced a "significant" debris flow but CDOT says the complex was not damaged.
Bad Timing
This latest closure comes at an inopportune time as weekend travelers are hitting the road and are being forced to take the long detour that takes eastbound motorists through Rifle, Craig, Steamboat Springs, Wolcott, and Silverthorne. Obviously, extended drive time will significantly impact weekend plans.
Weekend Forecast Brings More Rain
Flash floods and mudslides will remain a concern through the weekend because of an unfavorable forecast for the Glenwood Springs area. The National Weather Service is offering a 40% chance of rain on Friday, a 60% chance of precipitation on Saturday, and a 50% chance of thunderstorms on Sunday.
If you are traveling the I-70 corridor this weekend, be sure and keep up-to-date with the latest road conditions and closures at www.cortrip.org.
Strawberry Park Hot Springs
One of Colorado's coolest hot springs attractions is Strawberry Park in Steamboat Springs. From the scenic surroundings to the diverse natural pools, Strawberry Park is a popular Colorado destination and there is a good reason why. Although it's a popular destination, it's off the beaten path, so many tourists will miss this hidden gem.
The Extremely Short Hike to Colorado's Beautiful Cascade Falls
Even if you have never been to Cascade Falls, for anyone who has traveled to Ouray it's highly likely you have at least seen it from a distance. It's a beautiful waterfall featuring a short, but gorgeous hike. It's hard to believe my first visit to Ouray was over 18 years ago - and I'm just now experiencing Cascade Falls up close. It was such a cool place I wanted to share the beauty with others.
More From 99.9 KEKB - Grand Junction's Favorite Country