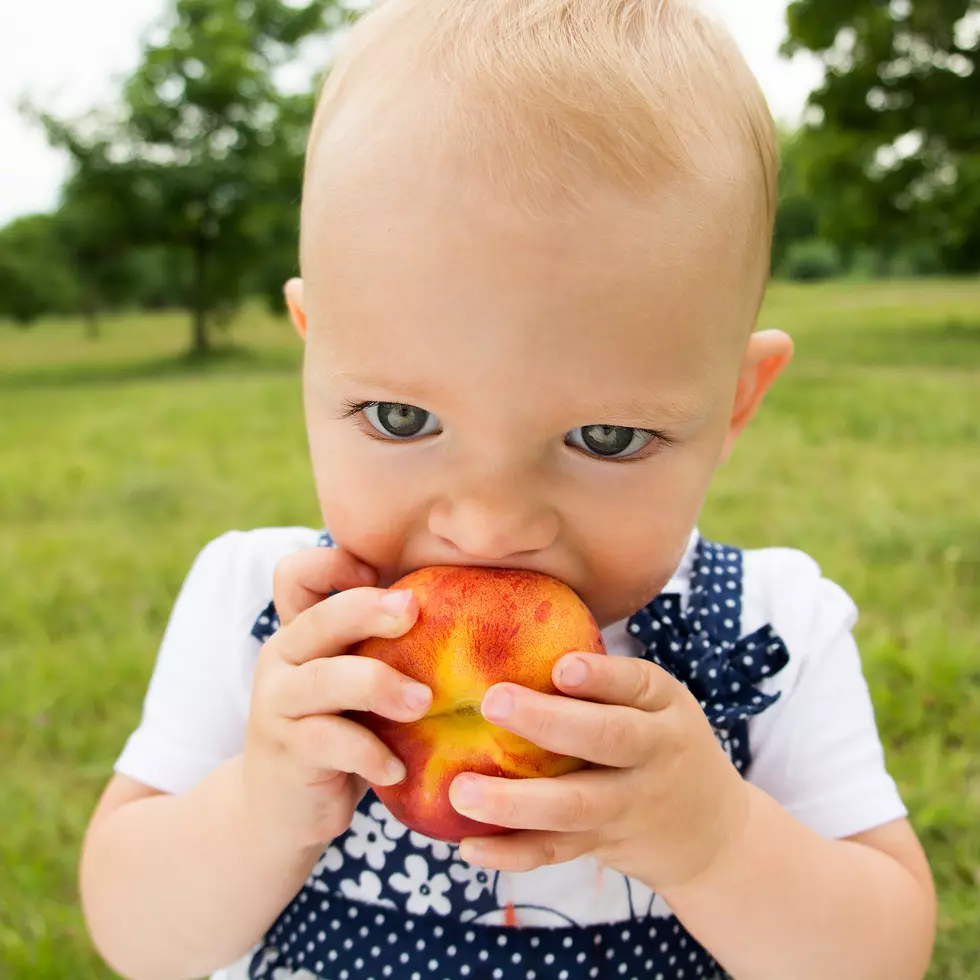 The 10 Commandments of the Palisade Peach
ThinkStock
We may be several weeks away from the advent of the 2017 version of Palisade peaches, but with the weather beginning to warm up, it's hard not to let our minds wander toward the delicious reward that lies just a few shorts months down the road.
When it comes to peaches, there really are no rules, but that's about to change. I hereby give you the 10 commandments of the Palisade peach.
I

Thou Shalt Never Believe It's Too Early to Think About Palisade Peaches

Obviously, the sooner you start thinking about Palisade peaches the longer you will have to wait for them, but who cares. The anticipation is half the enjoyment.

II

Thou Shalt Never Send Visiting Friends and Family Home Empty-Handed

Anytime you have out-of-town guests, the itinerary must include a stop at a local fruit stand. What kind of a friend would you be if you didn't insist on them taking some Palisade peaches home with them?

III

Thou Shalt Never Eat a Palisade Peach With a Napkin

Juicy Palisade peaches are supposed to be messy, and if you aren't making a mess, you might as well be just eating any ol' peach. If wiping becomes absolutely necessary, the back of the hand or a shirt sleeve should be all the napkin you need.

IV

Thou Shalt Absolutely Make Peaches and Cream

There should be multiple occasions on which you enjoy sliced Palisade peaches over a bowl of soft vanilla ice cream. If you are having guests for dinner, this is the simplest of desserts, but one that will have your guests thinking they have dined with kings. Even if your chicken cordon bleu was as dry as the western Colorado desert.

V

Thou Shalt Not Make Everything Taste Like a Peach

People are very creative when it comes to all the things you can do with Palisade peaches, and that is all well and good. Some peach jam or peach butter is fine, or a peach smoothie, or peaches in a fruit salad. You don't have to have peach syrup on your pancakes or peaches on your omelette. Peach pie would be great, but don't feel the need to create an exciting new casserole dish laced with peaches.

VI

Thou Shalt Know When to Say When

While the anticipation of the Palisade peach season is great, it can lead to peach overload, also know as, PO. PO can occur when peaches are consumed in great quantity in a relatively short amount of time. Peaches are made to be relished and savored, not inhaled and devoured like they're going out of style. It's perfectly acceptable to go a few days in between peach eatings.

VII

Thou Shalt Attend the Palisade Peach Festival At Least Once

You can't live in western Colorado and never go to the Palisade Peach Festival. How else are you going to know what you're missing? It's not like you have to go the event every year, but there is something special about enjoying Palisade peaches in the festival atmosphere.

VIII

Thou Shalt Never Throw Away Half of an Uneaten Peach

Why would anyone do that? If you're not going to eat the whole thing don't even start. A juicy Palisade peach is too precious to waste.

IX

Thou Shalt Share Your Peaches

Don't automatically assume that everyone who loves Palisade peaches has plenty of them. Share your peaches with others, as you would have them share theirs with you.

X

Thou Shalt Cherish Each Palisade Peach As If it Were Your Last

You never know for sure when the peach season will be over or which Palisade peach will be your last of the year. So, enjoy each and every bite, every little morsel. Savor it, relish it, and consume it with tender love and affection -the same kind of love that went into bringing it into this world.
More From 99.9 KEKB - Grand Junction's Favorite Country