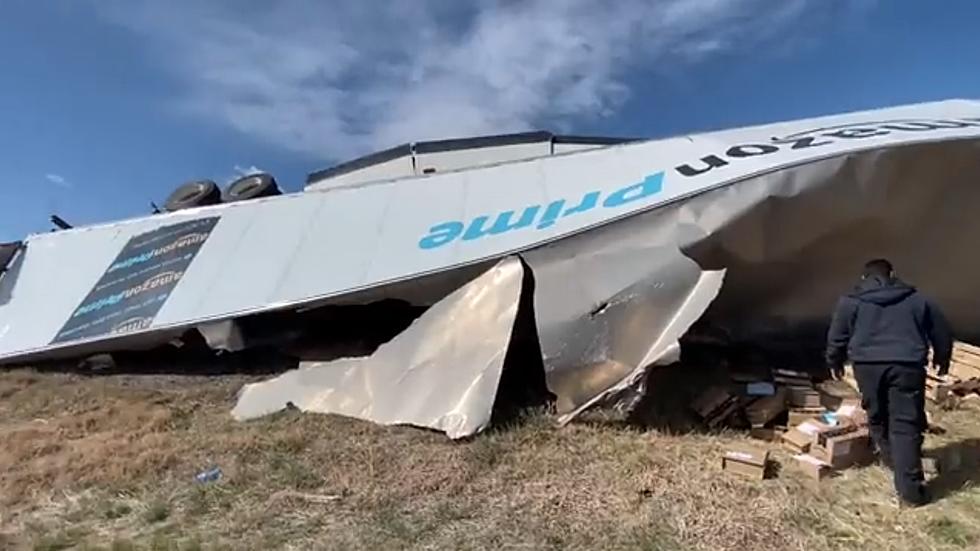 Blown Away! Crazy Strong Winds Make Semi-Truck Topple in Colorado
Twitter Via Sean Rice KRDO
Battling the wind when driving down the highway in Colorado is incredibly scary and for big trucks, it is oftentimes dangerous.
While April is typically known for showers of rain, in Colorado we've been receiving huge gusts of winds that are quite literally blowing us away.
Strong Winds + Big Trucks in Colorado
Just driving in your average size vehicle, you can feel the power that the high winds push. Now imagine what it feels like to drive a semi-truck while those same winds are blowing.
Yeah, no thanks! An Amazon truck driver who was driving a very light load found himself pushed off the highway on April 12 when the winds took hold of his truck.
---
---
The Amazon truck completely collapsed rendering the truck inoperable. Luckily the packages were able to be quickly retrieved to avoid theft.
Blinding Dust Due to Colorado Winds
On Tuesday, April 12, the National Weather Service reported the following:
Very strong winds up to 55 mph are possible to the south of
Interstate 70 across the plains today. This may create blowing dust and poor visibility leading to hazardous travel. Low humidity along with the strong winds will create critical fire weather conditions across the Palmer Divide area eastward into Lincoln County.
The high winds are predicted to continue and the National Weather Service also reported the following:
Elevated to critical fire weather conditions will continue across much of the plains into the weekend due to gusty winds and low humidity.
Colorado Truck Drivers Have it Rough
As if it wasn't hazardous enough with the steep inclines, Colorado truck drivers have to be extremely careful driving through the mountains with the powerful winds working against them.
If you see a truck driver, make sure to thank them because life on the road in Colorado is far from easy.
The Highest Wind Gusts Recorded Each of the Past 25 Years in Colorado
See which days have brought the strongest winds to Colorado for each of the past 25 years.
2022 Hurricane Predictions From Colorado State University
The first hurricane predictions were released April 7, 2022, from Colorado State University. This year's predictions call for another above average season. The forecast is for 19 named storms with nine of them becoming hurricanes. Hold on, 2022 may be a little bumpy. Check out the waiting list of names for this year's potential storms. Do you know anyone by these names?
QUIZ: Colorado or Not Colorado?
I have this quiz for you to take - Colorado or Not Colorado. Below is a series of photos of places I have been to or have lived like Missouri, South Dakota, North Carolina, New Mexico, Arizona, and Indiana. Your job is to look at the photo, decide if it's Colorado or not, and then scroll down to the next photo to see if you are correct. I think it could be pretty challenging, however, you may actually recognize some of the Colorado photos. Scroll slowly and take a moment to pause at each one and make your guess.
More From 99.9 KEKB - Grand Junction's Favorite Country