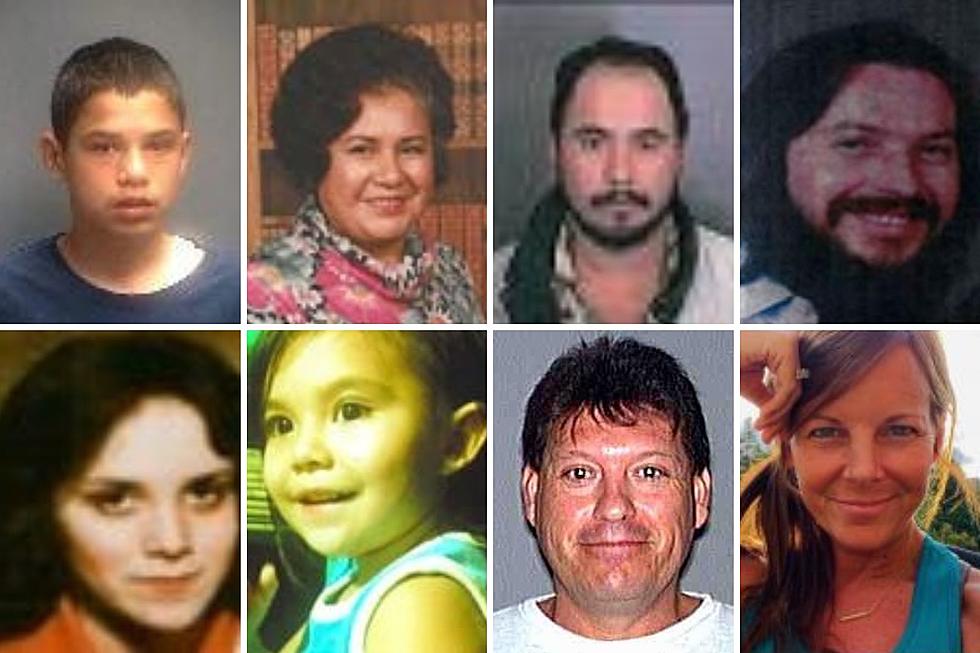 Look Back on 8 Colorado Cold Cases With Anniversaries in May
Colorado Bureau of Investigation, Chaffee County Sheriff's Office
The Centennial State has no shortage of cold cases, as evidenced by the Colorado Bureau of Investigation's (CBI) extensive Cold Case Database.
However, the only way to narrow down the CBI's cold cases is to learn about them — and see if you know something.
Keep reading to see eight Colorado cold cases with anniversaries in May:
Karen Denise Aguilera | Homicide
According to the CBI, 23-year-old Karen Denise Aguilera's body was discovered in a field by Curtis Road and Falcon Highway on May 10, 1988.
Authorities do not know her cause of death but say she was last seen on September 17, 1987. Call the El Paso County Sheriff's Office with information.
Margaret Albo | Homicide
The CBI reports that 59-year-old Margaret Albo's body was found in a vacant parking lot by Lawson Park on May 31, 1991. She had died of strangulation.
Albo was last seen at the nearby Denver Grill the night before her murder. Contact the Denver Police Department with information.
Gene Edward Arnold | Homicide
The CBI says that 40-year-old Gene Edward Arnold died after an unknown male shot him in an alleyway near the 5100 block of Alley Beach Ct. and Bryant St. on May 1, 1992.
Several other males were present for the shooting, but all suspects fled the scene. Contact the Denver Police Department with information.
Victor Abeyta | Missing
The CBI notes that 48-year-old Victor Abeyta was reported missing on May 5, 1998, after he didn't pick up his paycheck from the Safeway on Patterson Road.
He was unhoused and last seen wearing a blue coat, white T-shirt, black jeans, and white tennis shoes. He has mental health issues and may act violently. Contact the Grand Junction Police Department with information.
Jason Arellano | Homicide
15-year-old Jason Arellano died in a shooting in the 1400 block alley of King and Lowell on May 23, 2004.
Two others were wounded at the scene, and the CBI has not identified any suspects. Contact the Denver Police Department with information.
Javier Aguirre | Homicide
According to the CBI, authorities were responding to a report of shots fired in the 3500 block of West Custer Place on May 30, 2006, when they found 41-year-old Javier Aguirre unresponsive in his doorway.
Police have not identified any suspects in the case. Contact the Denver Police Department with information.
Isabella Belajonda Annibal | Missing
The CBI reports that three-year-old Isabella Belajona Annibal was allegedly abducted by her mother, Sharon Annibal, on May 20, 2012.
Police believe the pair could have traveled to the Philippines. Contact the Denver Police Department with information.
Suzanne Morphew | Missing
While Suzanne Morphew's case is not a part of the CBI's Cold Case Database, she has been missing from Chaffee County since May 10, 2020.
Authorities believe she is no longer alive, and ABC News reports that they think Morphew's husband, Barry, could be involved with the case (murder charges against him have been dropped without prejudice). Find out more about the case here and call (719) 312-7530 with information.
See more unsolved Colorado cases in the gallery below.
These 10 Children Have Gone Missing in Colorado in 2023
Can you help find these children that have gone missing in Colorado since the start of 2023?
Northern Colorado's Most Puzzling Cold Cases
These cases are cold, meaning they are no longer being actively pursued due to a lack of evidence. However, that doesn't mean they are unsolvable — it's always possible that someone knows something. While each case poses a frustrating mystery, here are the 10 most puzzling cold cases in Northern Colorado.
More From 99.9 KEKB - Grand Junction's Favorite Country