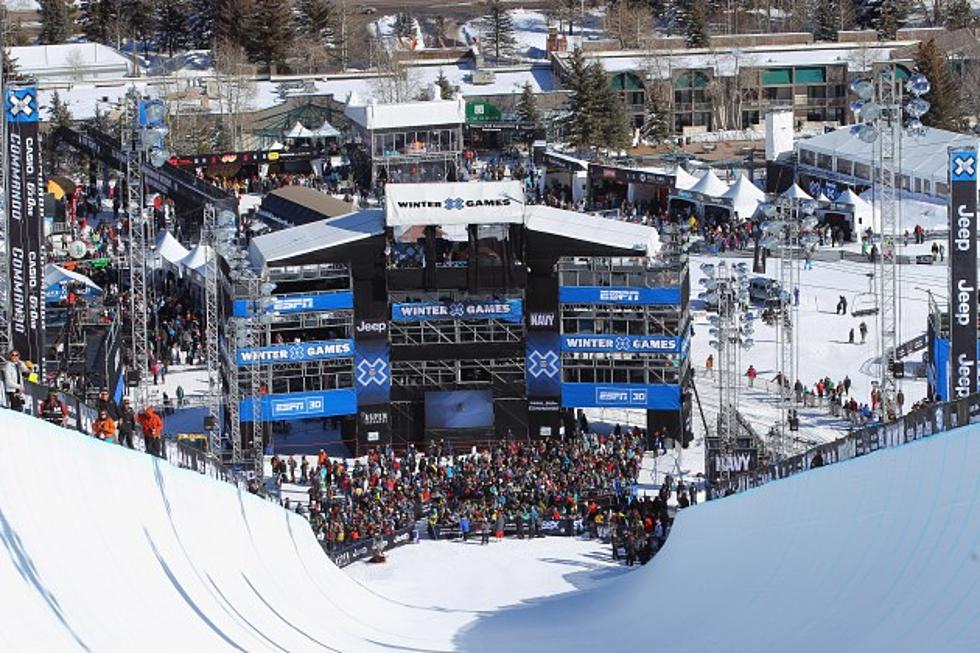 Winter X Games 2013 Return To Aspen — Schedule of Events
Getty Images
The Winter X Games return to Aspen Colorado once again. After all the talks last year about moving the Winter X Games, Aspen was able to seal the deal and bring the games back to Colorado. This will be the 11th year in a row that Aspen will host the Winter X Games.
Winter X Games is a completely free event -- save you money for food and drinks. Parking could be a hassle up at the resort your best bet is to find somewhere to park in downtown Aspen and take one of the many free shuttles to the summit. If you haven't already booked a room at a hotel than you probably won't find one, at least not one at a decent price.
Here is a complete listing of the Winter X Games 2013 Schedule. If your looking for the Broadcast schedule Click HERE!
Winter X Games Schedule
Thursday
| | | |
| --- | --- | --- |
| 10:30 a.m. - 12 p.m. | Skiing SuperPipe Men's Elimination | SuperPipe |
| 1:00 p.m. - 2:30 p.m. | Snowboard Slopestyle Men's Elimination | Slopestyle |
| 7:00 p.m. - 8:30 p.m. | Snowboard SuperPipe Men's Elimination | SuperPipe |
| 7:30 p.m. - 9:00 p.m. | Snowmobile Freestyle Final | Snowmobile |
| | | |
| --- | --- | --- |
| 1:00 p.m. - 2:30 p.m. | Skiing Slopestyle Men's Elimination | Slopestyle |
| 1:30 p.m. - 3:00 p.m. | Snowboard Street Round One & Final | Street venue |
| 6:30 p.m. - 7:45 p.m. | Skiing SuperPipe Women's Final | SuperPipe |
| 8:30 p.m. - 10:30 p.m. | Snowboard Big Air Round One & Final | Big Air |
| 8:45 p.m. - 10:00 p.m. | Skiing SuperPipe Men's Final | SuperPipe |
| | | |
| --- | --- | --- |
| 11 a.m. - 11:30 a.m. | Snowmobile Seeding | Snowmobile |
| 12 p.m. - 1:15 p.m. | Snowboard Slopestyle Men's Final | Slopestyle |
| 1:30 p.m. - 2:45 p.m. | Snowboard Slopestyle Women's Final | Slopestyle |
| 2:45 p.m. - 4 p.m. | Snowmobile Speed & Style Final | Snowmobile |
| 7 p.m. - 9 p.m. | Skiing Big Air Round One & Final | Big Air |
| 7:15 p.m. - 8:30 p.m. | Snowboard SuperPipe Women's Final | SuperPipe |
| | | |
| --- | --- | --- |
| 12:00 p.m. - 1:15 p.m. | Skiing Slopestyle Men's Final | Slopestyle |
| 1:15 p.m. - 1:30 p.m. | Snowmobile SnoCross Adaptive Final | Snowmobile |
| 1:30 p.m. - 2:45 p.m. | Skiing Slopestyle Women's Final | Slopestyle |
| 2 p.m. - 4 p.m. | Snowmobile SnoCross Round One, LCQ & Final | Snowmobile |
| 7 p.m. - 7:45 p.m. | Snowmobile Best Trick Final | Snowmobile |
| 7:45 p.m. - 9 p.m. | Snowboard SuperPipe Men's Final | SuperPipe |
More From 99.9 KEKB - Grand Junction's Favorite Country