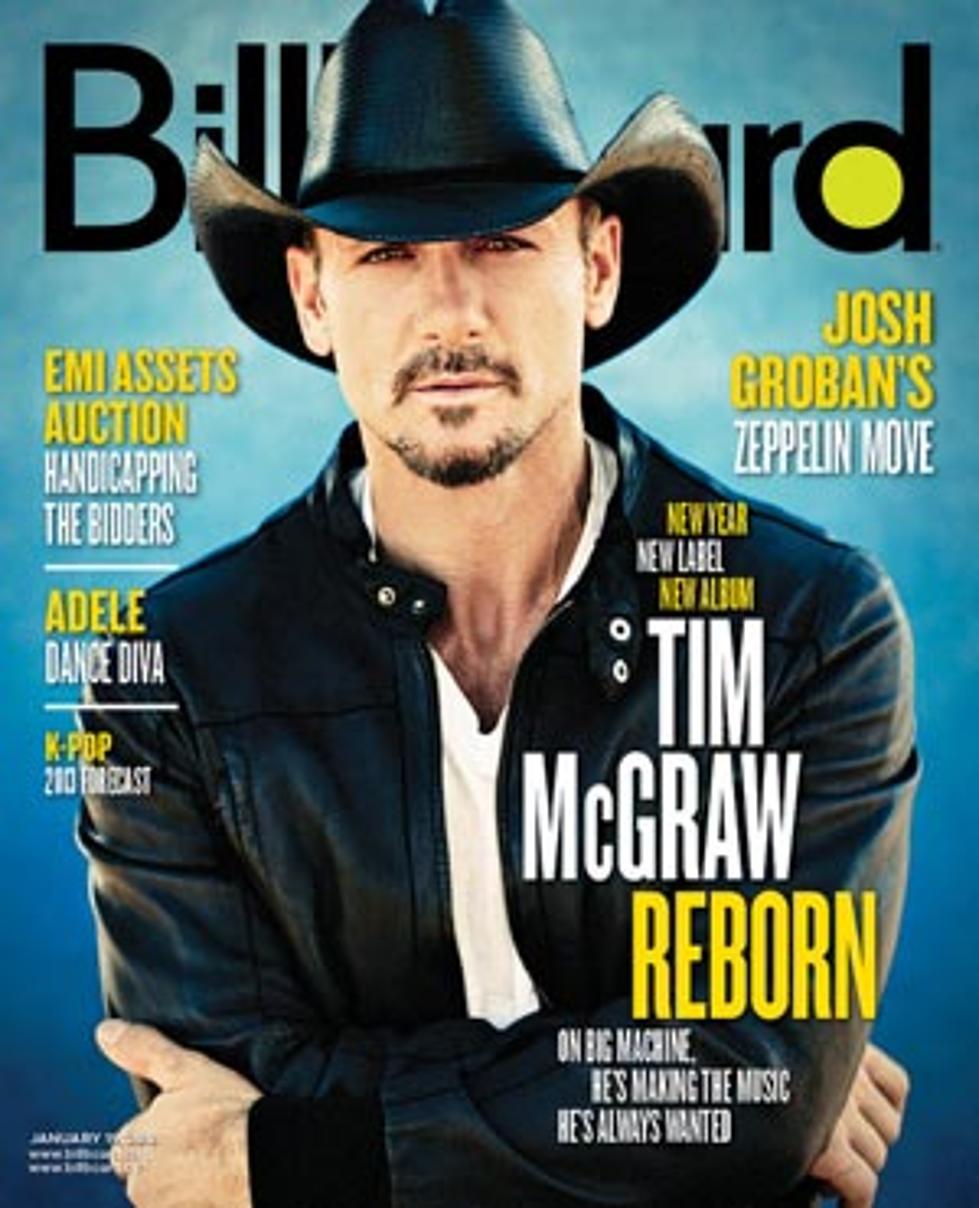 Tim McGraw to Billboard: 'Curb Records Ruined My Career'
Billboard
Anticipation is high among both fans and the music industry for Tim McGraw's Big Machine debut 'Two Lanes of Freedom,' especially after a public and not-so-amicable split from his former label, Curb. To celebrate McGraw's latest and greatest, he covers the new issue of Billboard. Ladies, can you handle it?
The cover photo is a stark, strong image of McGraw in his trusty black leather cowboy hat and black leather jacket, as he stares straight ahead. He emits a quiet strength, while the cover headline screams, "Tim McGraw: Reborn." That tags also reads "On Big Machine, he's making the music he's always wanted," which reiterates that the singer has a new lease on musical life now that he is free of his previous contractual constraints and is settled into a new label home. Fans are no doubt in for a real treat.
McGraw opens up about his relationship with his former label behind the cover, and admits he feels that Curb held him back creatively and caused him to plateau a bit while other artists ascended.
"They hurt my career. I felt like I was at the top of my game, and to not be able to get to the places I wanted to be ... it was really hard to sit back, with me being competitive. Nothing against any other artists -- I love success for anybody," he reveals. "I always say, 'I want everybody to do great. I just want to do better.' Just watching all the things that are going on and to have to sit on the sidelines, it's been tough."
But that's all in the rear view. "I really feel like I'm only about 35% into my career," McGraw explains, which means he feels he has barely scratched the surface. "There's so much more ahead of me, musically and everything else. It feels like the clouds have parted and now I can find my lane and press the gas."
'Two Lanes of Freedom,' which will be the country superstar's twelfth studio album, is dated for release on Feb. 5. He calls it "a watershed moment in my career. It's a time where I say, 'All right, let's see if I can go another step up. Let's see if I can find a deeper well in what I do artistically.'"
More From 99.9 KEKB - Grand Junction's Favorite Country