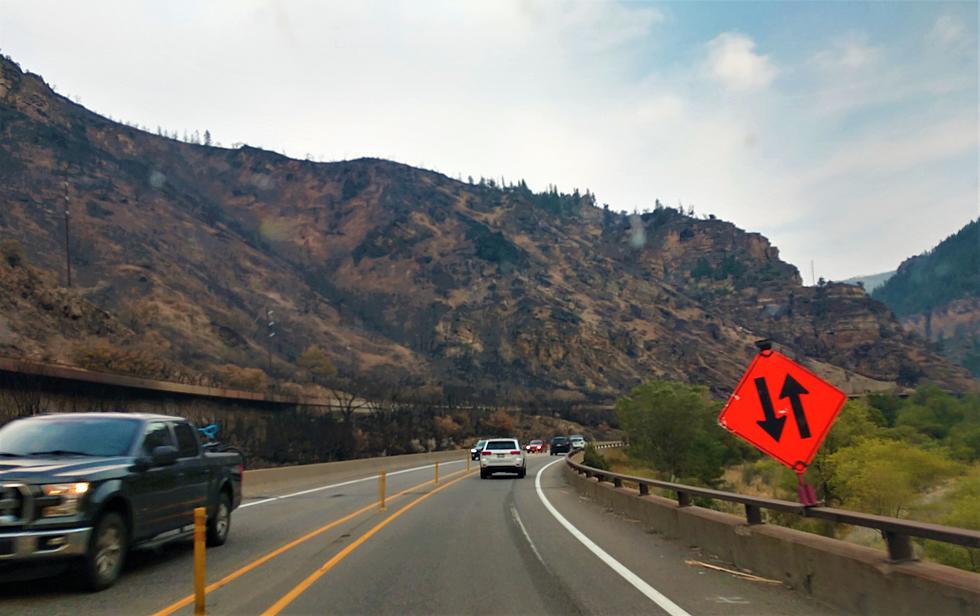 Rainy Forecast Shuts Down I-70: May Reopen On Thursday
Townsquare Media
We saw this coming, but that doesn't make it any easier to swallow for I-70 travelers.
Safety Closure
Interstate 70 through Glenwood Canyon was shut down Thursday because of a flash flood warning over the Grizzly Creek Burn Scar. The flash flood warning is in effect until midnight Friday with heavy rain in the Glenwood Springs area forecast for Thursday and Thursday night.
The interstate remained closed overnight and the  Colorado Department of Transportation says crews will reassess the weather forecast Thursday morning to consider the possibility of reopening the canyon later on Thursday. At this point, the forecast doesn't appear to be favorable for a reopening.
More Heavy Rain Expected
Thursday's Glenwood Springs area forecast from the National Weather Service is calling for a 70% chance of showers and thunderstorms with heavy rain at times. More heavy rain is expected Thursday before things begin to clear up on Friday. There's no rain in the forecast for the weekend which means if there are no mudslides, weekend travelers through Glenwood Canyon should be in good shape.
Back to the Detour
In the meantime, unfortunately, while the safety closure is in place, motorists once again will face the lengthy detour through Craig, Steamboat Springs, and Kremmling via CO 13, US 40, and CO 9. One option, of course, is to wait out the flash flood warning. If you do that, you'll still be required to get off the interstate.
A traffic control point is in place at eastbound Exit 87 (West Rifle to guide motorists to the northern alternate route. If you are heading to Glenwood Springs or destinations in the Roaring Fork Valey you'll continue down US 6 and get back on the interstate at exit 90 (Main Rifle) or at Silt or New Castle.
How Many Colorado Jeopardy Questions Can You Answer?
We're flipping through a photo gallery of Colorado questions that have all been used during episodes of Jeopardy!
More From 99.9 KEKB - Grand Junction's Favorite Country