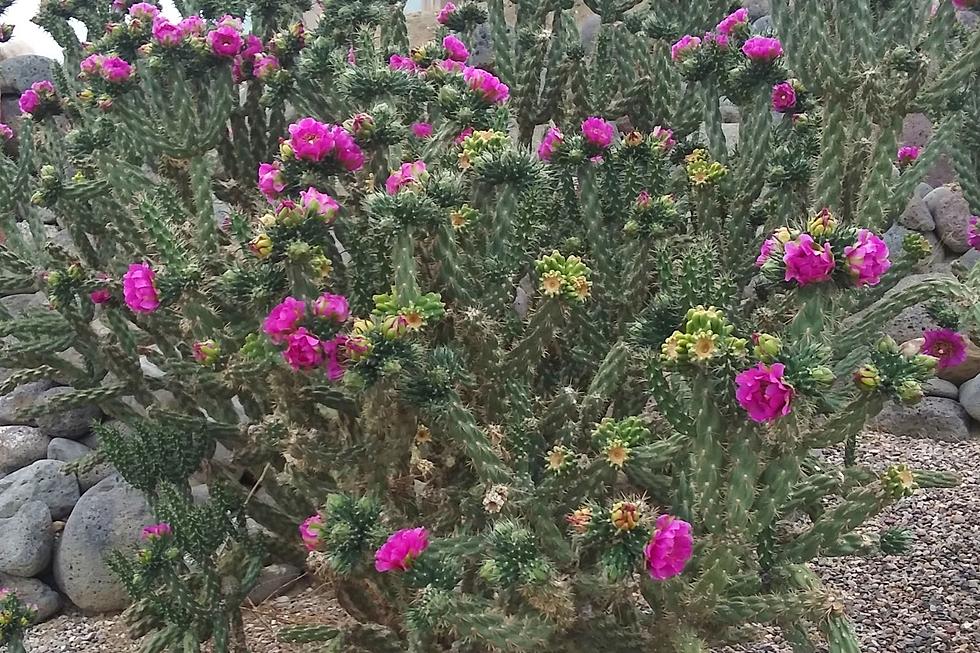 HURRY – Enjoy Grand Junction's Cactus Flowers While You Can
Waylon Jordan
Several varieties of cacti around Western Colorado are starting to bloom. Get out and enjoy them while you can.
These cactus and their flowers are really something to see. Sadly, the flowers don't last for long.
Wake Up Call This Last Weekend
The cacti pictured above belong to my neighbor. I have several of the same variety in my yard, but mine are nowhere near as bountiful.
This last weekend, while returning home from the motorcycle show in Montrose, my buddy pointed out the flowers. I'm embarrassed to say this, but I hadn't noticed. When working in the yard two days earlier, the flowers hadn't yet bloomed.
Why The Hurry?
In my experience, these flowers won't last for long. Several cacti from this cluster were transplanted to my yard back in 2001. Over the course of those 20 years, there have been occasions when the flowers lasted only a matter of days. Some years, they didn't bloom at all.
According to cactusway.com, cacti plants require the right conditions to bloom.
Keep in mind that even if your plant is fully mature, but the conditions aren't right, it won't flower. Almost all cacti plants usually need bright and hot desert-like sunlight to bloom properly. - cactusway.com

 

 
Why So Brief?
These bright purple flowers really are magical. It's a drag they don't stick around longer. Cactusway.com adds while some plants bloom and wither in as little as one day, others will retain their flowers for periods of up to six weeks.
Factors determining how long the flowers last include the temperature of the surrounding environment and the amount of watering it receives. It goes without saying my neighbors cactus get more water than mine. They have a much better drip system than I do.
Enjoy Them While You Can
No matter how you look at it, the flowers won't be around for long. To my eyes, these plants scream "Western Colorado." If you're working on landscaping, I highly recommend these plants. Given how little water we have, and how much worse that is likely to get, these are an excellent selection.
Spotted: Bighorn Sheep on the Colorado National Monument
LOCAL HIKE: Grand Junction's Ribbon Trail Offers Views for Days
More From 99.9 KEKB - Grand Junction's Favorite Country