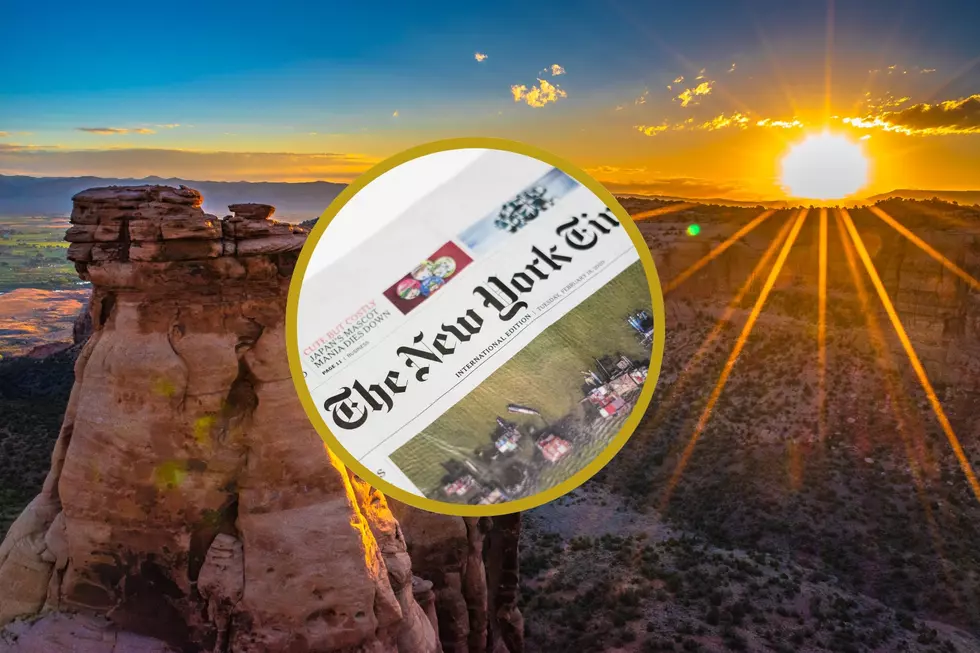 Grand Junction Makes New York Times List of 52 Places To Go In 2023
Canva
It's quite possible the entire world is about to discover Grand Junction, Colorado.
The city of Grand Junction has been selected for inclusion in the New York Times list of 52 Places to Go in 2023. On the list, you'll find Grand Junction at #45 right between Madrid and La Guajira, Columbia. The list was posted online and will be published in the New York Times Travel Section on January 15.
Who Is On the List?
The annual list from the New York Times spans the globe and includes exotic places around the world. It's pretty cool that Grand Junction is on the list along with so many amazing places around the world. The list includes:
Japan
Scotland
Australia
Brazil
India
Vietnam
Taiwan
France
Palm Springs, California
Louisville, Kentucky
New Haven Connecticut
Black Hills of South Dakota
Why Does Grand Junction Belong On This List?
Those of us that live here already know about all the wonderful attractions of Grand Junction and western Colorado. The Times list  calls Grand Junction a "bonanza of canyons, arches, and cliffs without the hordes of tourists." Specifically, the New York Times mentions:
McInnis Canyons National Conservation Area
The natural arches in Rattlesnake Canyon
Hiking in ht Colorado National Monument
Area mountain bike trails - including the Palisade Plunge
Downtown Grand Junction with shops, craft breweries, and local restaurants
Why Do We Travel?
The theme of this year's New York Times list is "Why Do We Travel." The destinations on the list are varied to include attractive qualities such as being rich in food, culture, adventure, and natural beauty -- all of which can be found in Grand Junction and the surrounding area.
The Secret Is Out
Personally, I think Grand Junction is a great place to live, and obviously, there are plenty of folks who think it's a great place to visit. While we can all appreciate the dollars that come to our community via tourism, many folks would probably like to keep Grand Junction as "our little secret." Too late, the secret's out.
15 Fun Local Attractions to Visit in Grand Junction
If you are new to Grand Junction you'll want to put these local hot spots on your list of things to see in Grand Junction.
25 Reasons Why Grand Junction Colorado Is A Good Place to Live
Grand Junction isn't perfect, but it's definitely one of the best places to live in Colorado and there are many things that make it great. Here are 25 things that make Grand Junction a good place to live.
More From 99.9 KEKB - Grand Junction's Favorite Country