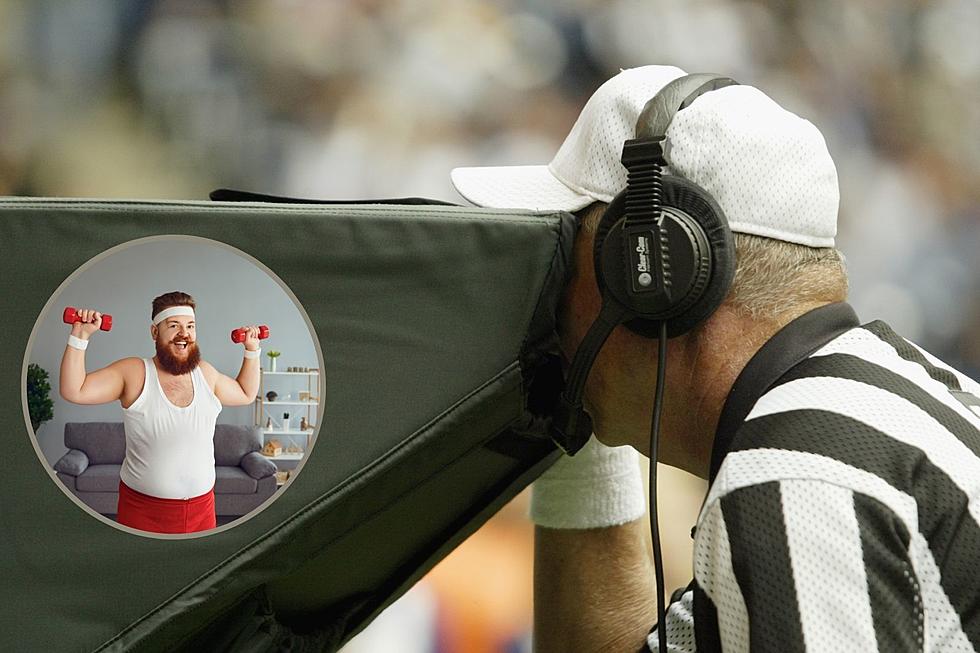 DREAM JOB: Grand Junction Hiring 'Adult Flag Football' Officials
Getty Images / Canva
This may be one of the greatest job opportunities in the history of Grand Junction. Have you ever thought about serving as an official for Adult Flag Football games?
Seriously, this job position exists in Grand Junction, and they're searching for the right person. To top it all off, there's a paycheck attached.
What is 'Adult Flag Football' and Have You Seen it Lately?
Seriously, until a few months ago, I had no idea this existed. I can't even drive to the grocery store without seeing "Adult Flag Football" signs along the street.
Check out Grand Junction Parks N Rec's 2021 schedule for the adult league. There are a handful of teams with games every week. What does this sport look like?
One Grand Junction Team Name is a Bit Suspicious
I don't know about this one. Check out some of the team names for Grand Junction:
The Soldiers
Opihipickers
Rockslide
Tittsburgh Feelers
Hey, wait a minute. The Tittsburgh Feelers? You guys....
What it Takes to be an Official With This Sport
Are you interested? What does an Adult Flag Football official do? What are the requirements? According to the City of Grand Junction's "Jobs" page:
Monitor play to oversee the safety of players and ensure Adult Flag Football rules are followed.
Manage/Referee Adult Flag Football games, time limits, and keep track of score during the game.
Listens to concerns, answers questions, and addresses coaches and players in a professional manner.
Report inappropriate behavior (like dirty team names), problems, and other situations to Recreation Coordinator or Recreation Supervisor.
Work weeknight evening shifts.
Here's what you'll need to bring to the table:
Knowledge of Football game and rules.
1+ years of playing and/or officiating Football
Ability to work evenings.
Ability to maintain regular attendance.
Someone who is willing to handle stressful situations in a professional manner.
You'll Need to be Thick Skinned
I particularly enjoy that last bullet point, "Someone who is willing to handle stressful situations in a professional manner." In other words, if you think parents can be brutal at their kid's football games, imagine what it must be like for an adult league.
What's In It For You?
There is a paycheck attached to this gig. You won't retire anytime soon, but it will put a few bucks in your pocket. The pay for this job is $20 to $26 per game. Note to the City of Grand Junction - I have friends who would pay you for a chance to have this job. You may want to rethink this one.
Adult Flag Football is on the move in Grand Junction, and they're in need of hiring officials. Who isn't in need of hiring someone nowadays? This may be the gig you've been dreaming of. Go get it.
Look at These Photos from the JUCO World Series of the Past
Grand Junction has hosted the Junior College World Series for close to half a century. For approximately half of those years, Bob Grant was there with his camera. He continued capturing images of the tournament until his retirement in 1985.
My dad (Bob Grant's son-in-law) went through a ton of Bob Grant negatives to dig up a few memories. Baseball fans are sure to remember many of these shots.
One of Bob Grant's most prized photos would be the first image in the gallery, the shot of the hawks at Suplizio Field. That particular shot won him an award from the Press Photographers Association.
As a Grand Junction native, I really enjoy some of the nostalgia spotted on the signs in the background. Did you see the billboard for "Mr. Steak"? If you were around Grand Junction in the 1970s, you definitely knew about "Mr. Steak."
Ten of the Best Athletes Born in Colorado
Denver Bronco Players You Totally Forgot About and Shouldn't Have
Through the years there have been notable players who came along and made a significant contribution to the
Denver Broncos
but have long since been forgotten. Take a look at this Denver Broncos flashback gallery and I'm sure you'll find yourself saying "oh, yeah, I remember him.
More From 99.9 KEKB - Grand Junction's Favorite Country