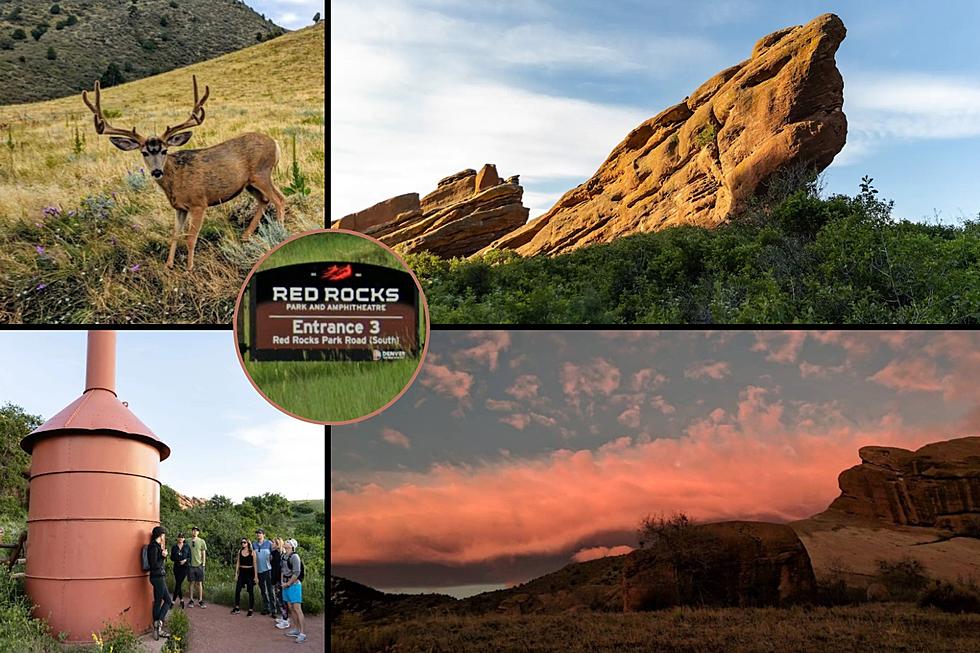 Add This Amazing Sunrise Hike at Red Rocks to Your Colorado Bucket List
Airbnb.com Experiences
Red Rocks Amphitheater in Morrison, Colorado is probably one of the most recognizable destinations in the Centennial State. Originally inhabited by prehistoric dinosaurs, Red Rocks really is a magical place.
Did you know Red Rocks is home to hiking trails that give visitors a great chance to see this venue at sunrise and learn some pretty cool insider info about some of its legendary concerts?
Where is Red Rocks Amphitheater?
Red Rocks Amphitheater is located in Morrison, Colorado, which is in Jefferson County. It is easy to get to from I-70. The Amphitheater offers five different parking lots and has a maximum capacity of 9,545 people.
Great Wildlife Photo Opportunities
While the tour is a gradual and comfortable hike, it does include stairs. Several stairs.
Strollers are not allowed on the trail, but it is friendly to dogs on a leash. Deer and Mule deer will photobomb frequently, so if you are looking for wildlife photos this early morning hike is a great choice.
How Much Does This Red Rocks Tour Cost?
Just so we're clear, you can visit Red Rocks Park for free and hike this trail by yourself during park hours at any time. Taking the guided tour is a chance to walk through a once-prehistoric environment while the guides share the history of the venue and some great stories about legendary concerts that have taken place there. It's $45 per person including breakfast.
Scroll on to check out some photos from the hike and to find the link for the guided tours.
Add This Amazing Sunrise Hike at Red Rocks to Your Colorado Bucket List
Love going to concerts at Red Rocks Amphitheater? What if you could discover some of the cool Colorado history surrounding this venue while taking a sunrise hike that even includes breakfast? Scroll on to learn how to place the Red Rocks Sunrise Hike on your Colorado bucket list.
MORE: Colorado's Red Rocks Amphitheater Spring Schedule 2023
It's officially spring, and before long we'll all be heading outdoors. How about taking in a concert at one of the highest-rated performance venues in the United States? Red Rocks Amphitheatre in Morrison, Colorado, has posted its concert lineup for 2023.
There are hundreds of shows coming your way over the course of the year. Let's break it down to the amazing shows coming to Red Rocks during the spring months. It's an amazing lineup, with some acts performing multiple days. Look closely at the schedule so as not to miss anything. Some dates have two acts.
MORE: The Most Haunted Hikes in Colorado You've Already Visited
A number of popular hikes in Colorado carry with them a secret history. While not commonly known in most cases, hikers have reported ghostly apparitions, disembodied voices, sudden drops in temperature, and "strange energy" at these Colorado locations. Chances are you've probably already been to a few if not all of these Colorado trails.
More From 99.9 KEKB - Grand Junction's Favorite Country