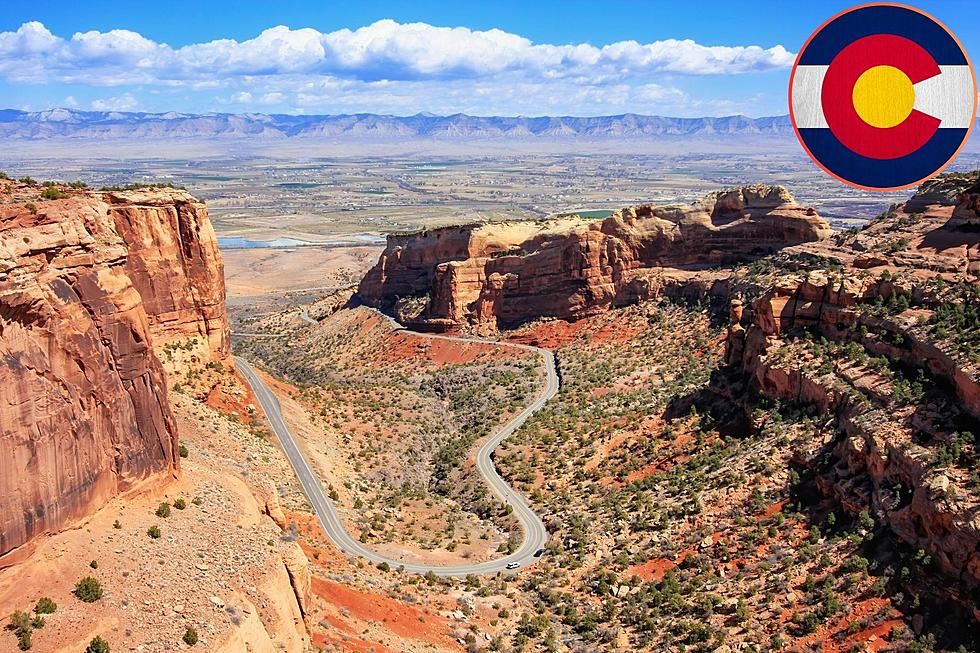 Rim Rock Drive Voted One Of The Best Fall Color Routes in Colorado
Canva Pro
The end of September into early October is the best time of year to visit Mesa County in Western Colorado if you are looking for fall colors. The entire Western Slope offers several scenic byways and fall color drives that allow you to see fall colors on the Colorado Plateau and in the Grand Mesa, Gunnison, and Uncompaghre National Forests.
Western Colorado has earned some national recognition to celebrate as we wrap up this year's fall color change. Fruita/Grand Junction's Rim Rock Drive has been named a TOP 5 Fall Foliage Route in a recent survey.
Where is Rim Rock Drive in Western Colorado?
If you have been inside the Colorado National Monument you already know. Rim Rock Drive has been named one of the most outstanding scenic drives in the American West. As an annual pass holder, I visit the monument year-round and Rim Rock Drive never gets old.
Rim Rock Drive stretches 23 miles from Fruita to Grand Junction with an elevation ranging between 5787 feet and 6640 feet. The route offers an incredible view of the Grand Valley, the red rock canyons in the monument, and wildlife encounters with Big Horn Sheep and Golden Eagles.
Visiting the Colorado National Monument
Rim Rock Drive is part of the Colorado National Monument. There is an entry fee of $25 for a vehicle day pass and $15 for a bicycle day pass. The annual pass at $45 allows you to enter the monument 24/7 year-round. I've been an annual pass holder the entire time I've lived in Mesa County and the pass more than pays for itself by your second visit.
According to the survey, Rim Rock Drive even beat destinations like Colorado's Peak to Peak Highway, and the Million Dollar Highway which both show up further down the list of the Top 140 Fall Color Dries.
Top 5 Fall Color Drives in Western Colorado
Grand Junction is a great place to find fall colors in September/October. If you have already enjoyed Rim Rock Drive and need a few new routes to try consider the photo galleries below when planning your fall color route for next year. Where else can you find fall colors in Western Colorado?
Grand Mesa Scenic Byway (63 miles): Palisade, Mesa, Cedaredge, Delta
Last Dollar Road (22 miles): Colorado 62 to Colorado 145.
West Elk Loop (205 miles): Mount Sopris to the Black Canyon of the Gunnison
Colorado Alpine Loop (63 miles): Ouray to Lake City to Silverton
MORE: 12 Amazing Colorado Drives for Viewing the Fall Colors
Check out 12 of the most popular fall color drives to put on your Colorado bucket list. Scroll on to learn about fall color routes in each part of the state that are perfect for enjoying the changing seasons.
Gallery Credit: Wes Adams
LOOK: Places You Need to Visit to View Colorado's Awesome Fall Colors
We asked you to tell us about some of your favorite places to view the fall colors in Colorado. See some of the popular destinations you told us about below with directions to get you there before the fall colors are gone for the season.
Gallery Credit: Wes Adams
UP NEXT: Photos: The Fall Colors Have Arrived on Colorado's Grand Mesa
Ready to see the fall colors changing on Western Colorado's Grand Mesa? Fall has arrived and the next week to 10 days will be the best time to take your fall color photos. Check out the colors we saw last weekend and our recommendation for a great fall color hike you can enjoy right now.
Gallery Credit: Wesley Adams
More From 99.9 KEKB - Grand Junction's Favorite Country