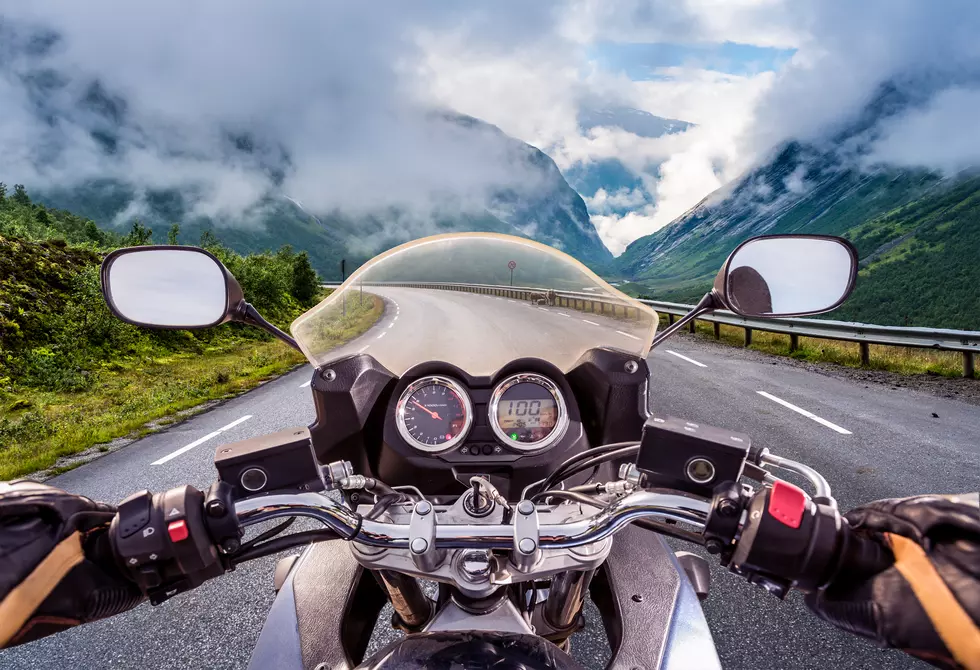 5 of Colorado's Most Challenging Mountain Motorcycle Routes
ThinkStock
For those with some advanced skills and sense of adventure, here is a look at five of Colorado's most challenging motorcycle routes.
The Colorado State Patrol has shared a map of some of Colorado's best motorcycle routes based on the required skill level. You can take a look at the map and identify some of the routes that match your ability and plan a spring or summer road trip.
Routes that are graded EASY are for beginning cyclists and feature "gradual grades and gentle curves."
Moderate difficulty level requires intermediate rider skills, and features "steeper grades and tighter curves."
The most difficult and challenging routes require advanced skills and features "steep grades, and sharp, technical curves."
In 2016, 125 motorcyclists lost their lives on Colorado roads. There's an inherent danger with this chosen activity to be sure. But, taking critical safety precautions and riding on roads that match your skill level can help reduce the risk.
1

Heading south out of Glenwood Springs you take State Road 82 to Carbondale. This doesn't seem to be as challenging as other routes on the list. It doesn't have extreme elevation gain or tight curves, but still gets the difficult ride designation.

2

This route starts south of Carbondale, taking you past the Maroon Bells-Snowmass Wilderness Area and over McClure Pass at an elevation of 8,755 feet.

3

Just west of Avon on Interstate 70, take U.S. 24 south. This is also known as the 10th Mountain Division Memorial Highway. You'll travel to the top of Tennesse Pass at an elevation of 10,424, eventually ending up at Leadville, the highest incorporated city in the  United States.

4

This route takes you from Breckenridge south to Alma. You will travel over Hooser Pass at an elevation of 11,541. In the distance you will be able see Red Mountain, Hoosier Ridge, and North Star Mountain.

5

This is a long but scenic ride northwest of Fort Collins. State Road 14 is also known as Poudre Canyon Road and one of the truly gorgeous mountain roads in the state. As you would expect from a canyon, the road has lots of curves as you follow the Poudre River all the way to Joe Wright Reservoir and beyond.
More From 99.9 KEKB - Grand Junction's Favorite Country