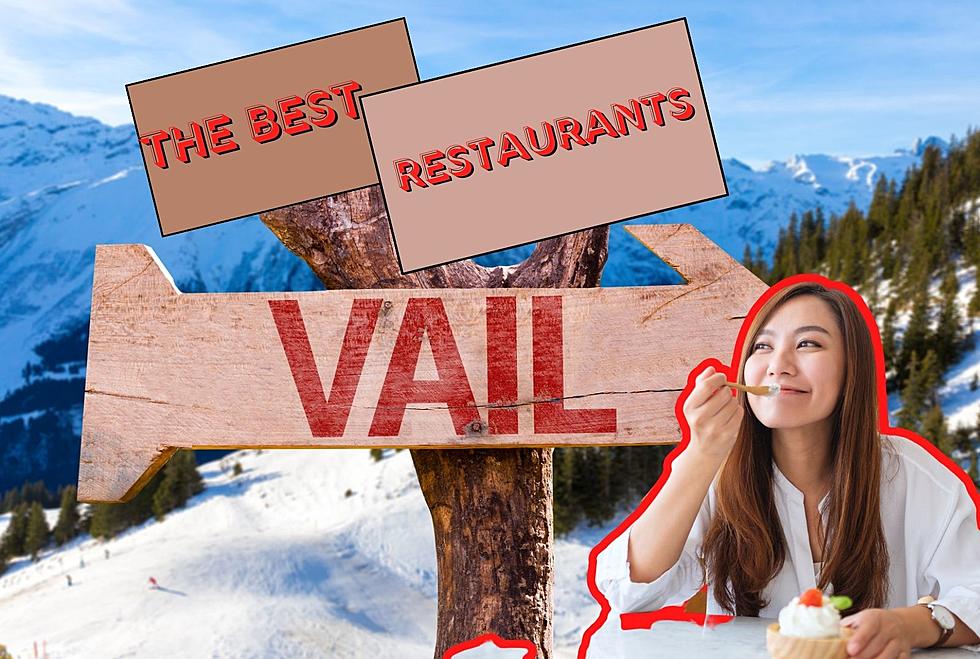 Enjoy an Awesome Dinner at Vail Colorado's Best Restaurants
Getty Images / Thinkstock / Canva
Not only is Vail, Colorado known around the globe as home to one of the most popular and prestigious ski resorts in the world, but there are also plenty of activities that don't involve skiing that make Vail a great place to visit.
There are plenty of shops, places to catch live music and grab a drink after a long day of hitting the slopes. However, one of the most well-liked things about Vail is the many food options. There are plenty of options for grabbing a bite to eat in Vail, and according to Trip Advisor, these are the best.
The Top Three Best Restaurants in Vail Colorado
1. The Swiss Chalet - This Swiss-themed Vail restaurant is well known for its lamb and fondue and has the highest rating on Trip Advisor.
2. The Little Diner - Vail's Little Diner is ranked #2 on Trip Advisor and visitors rave about the famous eggs benedict.
3. Bully Ranch Restaurant - Bully Ranch Restaurant is Trip Advisor's third highest-rated restaurant and visitors recommend the salmon.
All of the Best Restaurants in Vail Colorado
Of course, there are plenty more great restaurants in Vail in addition to the top three, and here they are in order according to Trip Advisor's rankings:
Westside Cafe & Market - 2211 N Frontage Rd W Ste 5, Vail, CO 81657-3937 - 2211 N Frontage Rd W Ste 5, Vail, CO 81657-3937
Buffalo's Restaurant - Vail Mountain Access via Northwoods Express Lift, Mountaintop Express Lift, and High Noon Lift, Vail, CO 81657 -
La Cantina - 241 S Frontage Rd E, Vail, CO 81657
Find All of Vail Colorado's Best Restaurants
Now that you know all 67 of Vail's best restaurants, here are maps and photos so you know what you'll be looking for:
Enjoy an Awesome Dinner at Vail Colorado's Best Restaurants
Plan a meal or two in Vail at one of these great restaurants.
Vail's Sebastian Hotel is Full of Elegant and Pricy Art
Like most hotels in Vail, The Sebastian Hotel is the epitome of class and luxury and is filled with elegant artwork.
Massive $9.8 Million Vail Colorado Home is Jaw-Dropping
A home for sale in Vail is gorgeous inside and out and carries a price tag of $9.8 million.
More From 99.9 KEKB - Grand Junction's Favorite Country