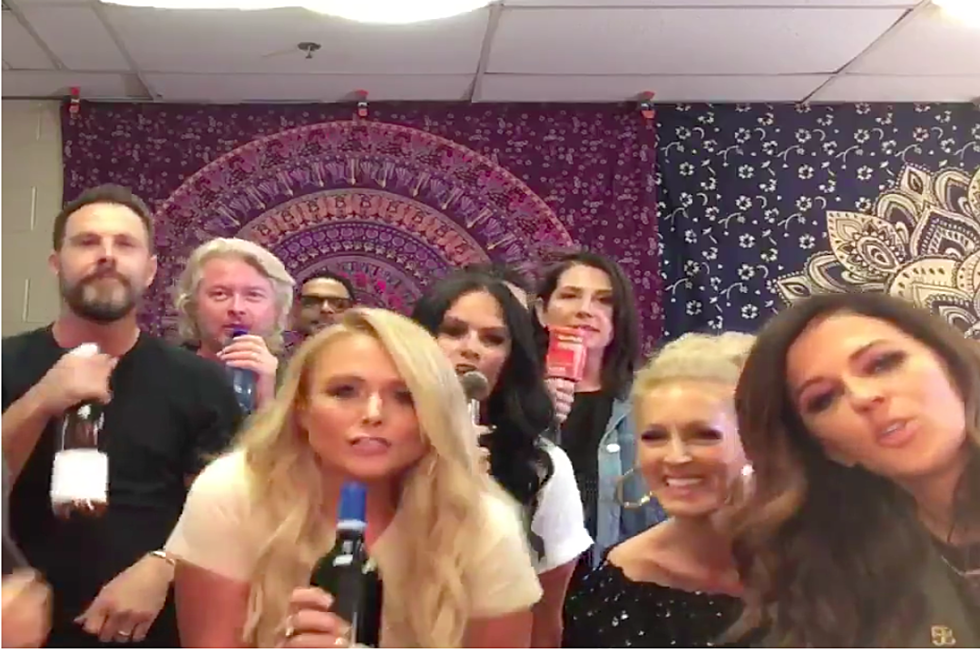 See Miranda Lambert, Little Big Town Glam Jam Backstage at the ACM Awards
Twitter/@mirandalambert
This is one way to pass the time before a big show! Backstage at the 2018 ACM Awards, Miranda Lambert met Little Big Town in a dressing room to break into one of her much-loved glam jams.
In the video that was shared on Lambert's socials, LBT's Jimi Westbrook, Karen Fairchild, Kimberly Schlapman and Phillip Sweet grab their wine bottles and hairbrushes and join Lambert for a rendition of Bruno Mars' infectious "24K Magic." And yes, they look like they're having a ball!
More Golden Moments From the 2018 ACM Awards
Of course, the fun was just getting started for the group of country superstars. During the telecast on Sunday (April 15), LBT delighted the crowd assembled at the MGM Grand when they delivered a breathtaking version of Elton John's classic "Rocket Man." Their version is featured on Restoration, a tribute album that also features Elton John covers by Lambert, Kacey Musgraves and Chris Stapleton.
Before the ACM Awards were over, Lambert took home three awards, grabbing Song of the Year for "Tin Man" as both artist and co-writer, and then Female Vocalist of the Year, giving her a total of 32 ACM lifetime wins — the most in the awards show's history. And while the Texas native ended up walking the red carpet solo before the show, Lambert looked as confident as ever, having fun with her friends in country music.
Miranda Lambert Walks 2018 ACM Awards Red Carpet Solo
More From 99.9 KEKB - Grand Junction's Favorite Country