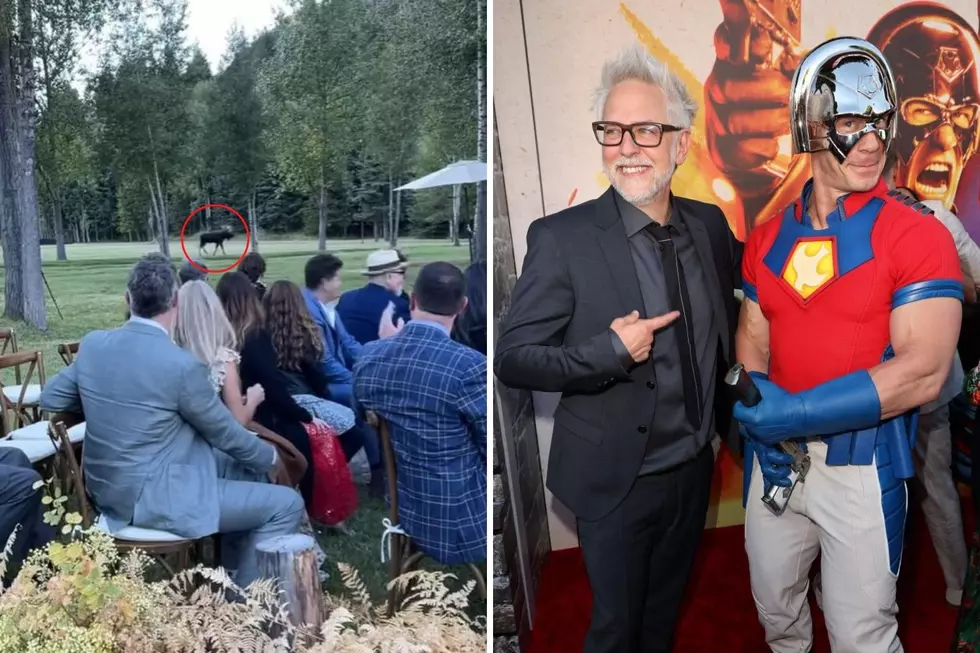 LOOK: Marvel Movie Director James Gunn's Colorado Wedding Crashed By Moose
James Gunn via Instagram Kevin Winter - Getty Images
You know you're really good at your job when you write and direct movies for the two biggest comic book companies in the entire world (meaning of course, Marvel & DC).
Director James Gunn is still working for both brands, but recently took the time off to marry his longtime girlfriend, actress Jennifer Holland (who currently stars in her hubby's show, Peacemaker), on Dunbar Ranch, located in Aspen, Colorado.
The guestlist was enough to match any Hollywood red carpet event, which included many of Gunn's movie collaborators (like John Cena, Chris Pratt, Zoe Saldana, Karen Gillan, and even Dr. Anthony Faucci), but the ranch is actually owned by Yellowstone star, Kevin Costner.
As stunning as the bride and groom looked (and the beautiful outdoor atmosphere), in true Colorado fashion, a large bull moose crashed the beginning of the wedding. Gunn shared video footage of the moose and a few photos of the wedding to his official Instagram account, along with the caption that read:
Gunn is probably most known for writing and directing both "Guardians of the Galaxy" films (and is currently working on the third), for Marvel, plus writing and directing "The Suicide Squad"  and "Peacemaker" for DC.
The wedding looked wonderful and much to my surprise, none of the famous guests tried to approach the animal.
People are learning.
Celebrities You Might Run Into in Colorado
Whether they live in the state or just visit regularly, these are 25 celebrities you may just happen to run into in Colorado.
11 Celebrities You May Not Know Are From Colorado
When you think of celebrities, you typically relate them to places like Los Angeles or New York. However, there are quite a few celebrities that are from right here in
Colorado
that you may not know about.
Grand Junction's Top 25 Picks for Well Known Local Celebrities
Roll out the red carpet if you run into Speedo Man, Tater, or the Dragon Lady at Zen Garden. We asked our audience to point out some of the most well-known local celebrities in Grand Junction. Here are your Top 25 answers (with some repeats).
More From 99.9 KEKB - Grand Junction's Favorite Country