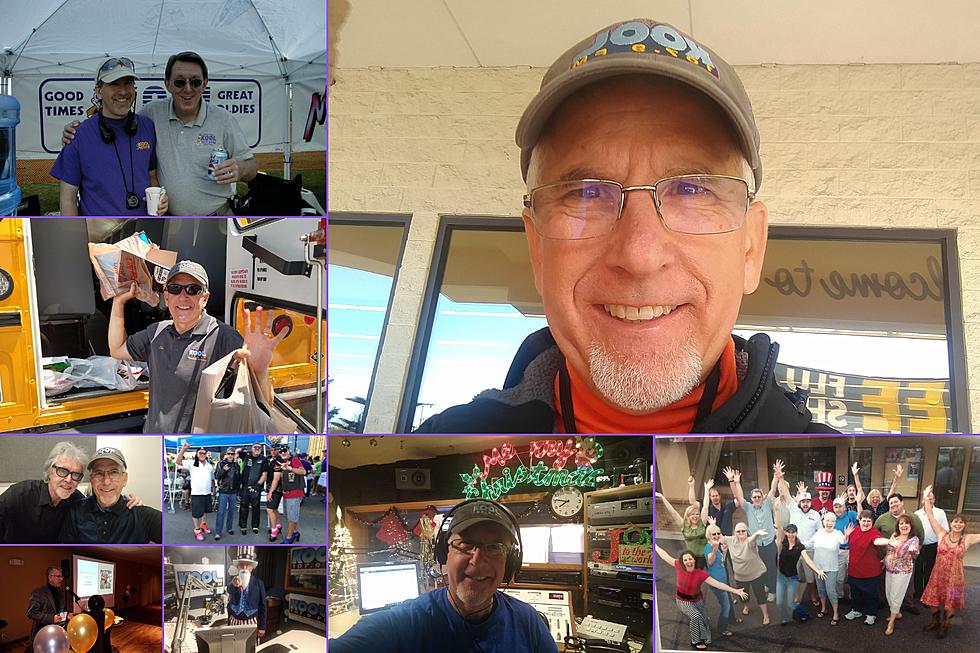 Colorado DJ Leaves Morning Show with 20 Years of Awesome Memories
Zane Mathews/TSM
In our lives, change is inevitable, sometimes it is unexpected - and sometimes it is both.
When I started at KOOL 107.9, I had no idea it would last some 20 years. As the years rolled by, I always knew the end would come eventually - it always does-- I just didn't know when. I've enjoyed 40 years in radio and half of that has been with KOOL.
How It All Began In 2003
It was July of 2003 when I applied for the job at KOOL, and did an in-studio audition for Ed Chandler. I blew it. I was terrible. I walked away disappointed and dejected because I had blown a golden opportunity. However, a couple of weeks later my cell phone rang. It was Ed offering me the job. In shock, I graciously accepted the offer and thanked the Lord for the blessing. I remain deeply grateful for Ed's confidence and for taking a chance on me.
The rest, as they say, is history. The next 20 years would be the ride of my life playing Good Times and Great Oldies, and Western Colorado's Greatest Hits as the musical format evolved from the 60s and 70s, to the 70s and 80s, and eventually to include the 90s.
Can't Believe I Got Paid To Do Fun Such Fun Stuff
There was the noon-time Cranium Kruncher, the 2:00 Two-fer, and later on the Morning Music Challenge. There were concert ticket giveaways, trips(including a trip to London), cash giveaways - and lots of Chick-Fil-A sandwiches.
Through the years our calendar was filled with great community events like the KOOL Cruise, the downtown tree lighting, Monster Mash, the Rose Hill Rally, the Walk to End Alzheimer's, the Downtown Car Show, the Southwest Arborfest Chili Cookoff, Pork n Hops, Toy Drive for the Salvation Army, Rock Jam, the Partners Television Auction, the Men in Heels Race for Hilltop, and countless other worthy causes and fun events. You can see photographic memories of some of these events in the gallery below.
It's the People That Have Made the Difference
I have been blessed to work with some amazing individuals both on the programming side as well as in sales, traffic, and promotions. I've been fortunate to meet listeners and make friends for life, and I've had the opportunity to meet and interview scores of community and non-profit leaders. It truly is the people that have made this such an amazing job and I thank each one for making a difference in my life. I wish I could mention them all.
Over the years,  I've had the chance to interview a handful of celebrities and musical artists from bands including Styx, Three Dog Night, Foreigner, Kansas, Little River Band, the Lettermen, Chicago, and the likes of Judy Collins, Johnny Rivers, David Gates, Don McLean and a host of others. I feel extremely lucky.
Some people would call it the best job in the world - and I couldn't disagree. Working for KOOL has been the best job of my life - and I feel extremely blessed to have done it this long.
All Good Things Must End
I always knew the end would come eventually, but when it did, it arrived unexpectedly. About a month ago, my day fell and broke his pelvis in two places-just one week shy of his 89th birthday. He's in the middle of the long process of recovery, but his days of driving and living alone are over - and I have become the primary caregiver.  Consequently, I'm stepping away from my full-time position at KOOL 107.9.
What's Next For Zane Mathews?
My new job will be as the Public Affairs Director for the radio ministry of KJOL and I couldn't be more thrilled about the opportunity. This new position won't demand as much of my time and will allow me to take care of my dad in the best way possible. The way everything has worked out has truly been a blessing from the Lord.
Still Connected to KOOL 107.9
The good news is, I'm still going to be connected with KOOL 107.9 in a limited capacity. I'll be on the air Saturday and Sunday mornings from 6:30 to 10:00, and I'll still do some occasional live remotes. Yes, I'm leaving the morning show that I have hosted for the past 8 years, but, in one sense, I'm not going anywhere. I'll be around.
20 Years of Zane Mathews Highlights At KOOL 107.9
I thought this would be a good time to celebrate my 20 years at KOOL 107.9 and look at some of the events, broadcasts, and amazing people I have been privileged to know and work with through the years.
More From 99.9 KEKB - Grand Junction's Favorite Country