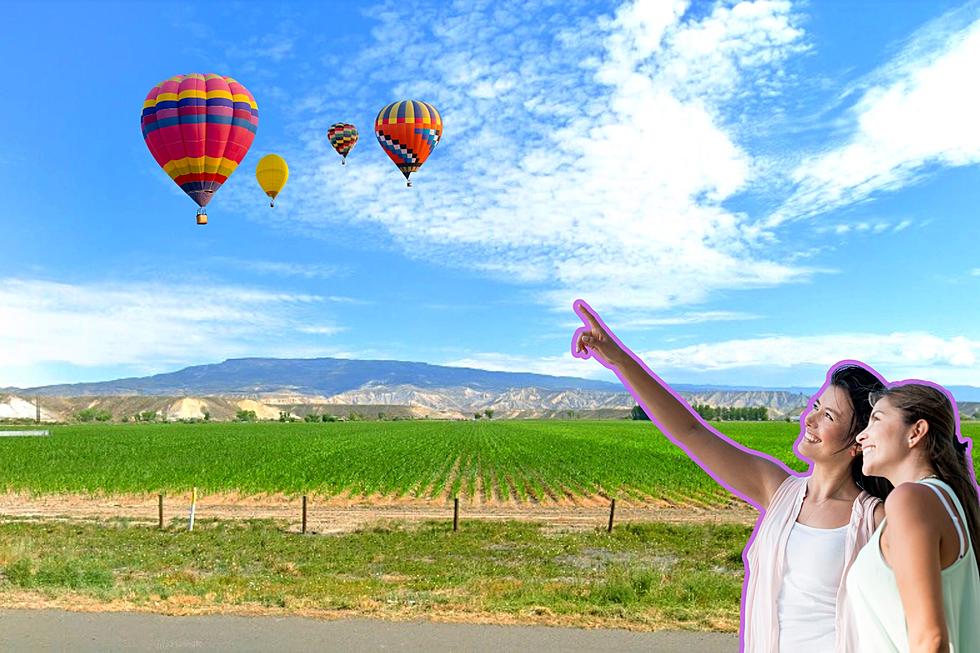 First-Ever Hot Air Balloon Festival Coming To Delta Colorado This Summer
Canva/Google Street View
This Fourth of July, western Colorado will be looking to the sky - and it won't only be to watch fireworks.
Mark Down These Dates For Delta's Hot Air Balloon Festival
The dates to mark down on your calendar are July 1-4 for the first-ever Western Sky Balloon Festival in Delta.  It will be a big part of the city's Fourth of July celebration this year.
Of course, with any hot air balloon event, you're at the mercy of the weather. However, balloons are scheduled to ascend between 6:00 a.m. and 8:00 a.m. on Sunday, Monday, and Tuesday, with an evening glow event on Saturday and Monday.
It's going to be a big weekend of fun in Delta with live music, pancakes, a parade, and the annual fireworks display put on by the Delta County Fire Protection District. Delta always does a fantastic job with their July 4th celebration and now it's going to be even better than ever.
Where To Find Hot Air Balloon Festivals In Colorado
The popularity of  balloon festivals seems to be increasing in Colorado, which hosts several festivals throughout the year including:
Hot Air Balloon Rodeo - Steamboat Springs - July 29-30
Moffatt County Balloon Festival - Craig - Aug. 4-6
Labor Day Lift Off - Colorado Springs - Sept. 2-4
Colorfest Balloon Rally - Pagosa Springs - Sept. 15-17
Snowmass Balloon Fest - Snowmass Village - Sept. 22-24
Arkansas Valley Baloon Festival - Rocky Ford - Nov. 4, 5
The Closest Hot Air Balloon Festival To Grand Junction
There are lots of opportunities to see hot air balloons this year in Colorado, but none will be closer to Grand Junction than the Western Sky Balloon Festival in Delta over the Fourth of July weekend. With any luck and good fortune, the balloon festival will be a huge success and will become an annual western Colorado tradition.
The Best Hot Air Balloon Rides Found Here in Colorado
Colorado's incredible hot air balloon attractions offer several different routes and rates. You can pretty much find a
hot air balloon
experience close to almost all the primary mountain ranges in the state.
The 12 Best Outdoor Festivals In Colorado For 2023
Are you looking to take in a concert? Perhaps an entire festival. Are you ready for one of Colorado's awesome Bluegrass festivals? While you're at it, how about an outdoor film festival? From skiing, ice climbing, music, to beer, Colorado hosts some of the best outdoor festivals in the nation. Here's a look at some of the best outdoor festivals coming to the Centennial State in 2023.
The Best Music Festivals in Colorado
Scroll on to learn more about 18 incredible Colorado music festivals that happening in 2023. Tickets are on sale now for some incredible lineups all over the state. From Denver's Mile High 420 Festival to Western Colorado's Country Jam, here comes your festival guide for the year ahead.
More From 99.9 KEKB - Grand Junction's Favorite Country