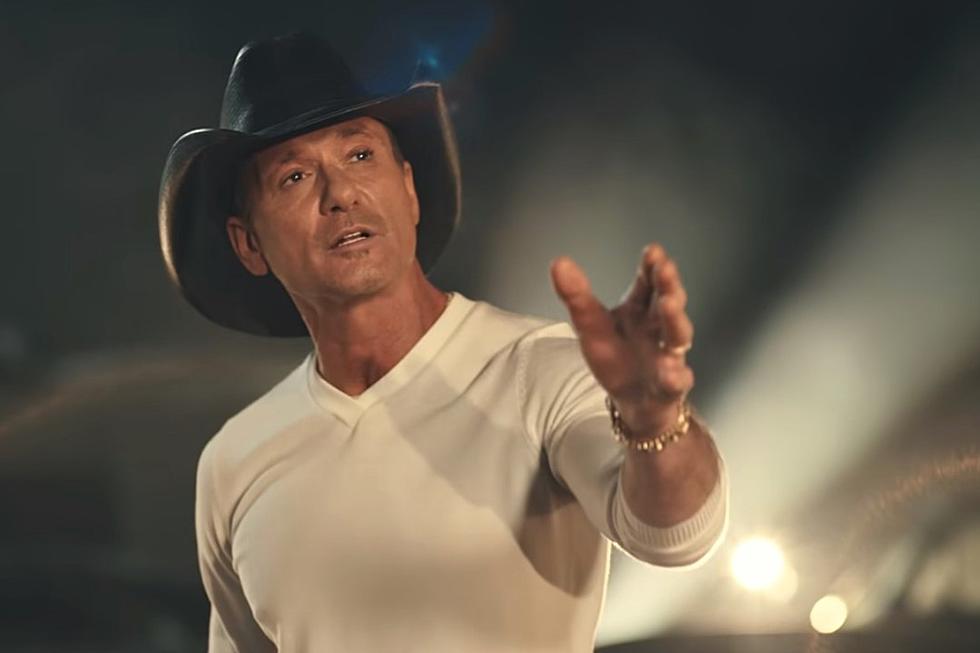 Tim McGraw Is Feeling Nostalgic in Warm and Fuzzy 'Standing Room Only' Video [Watch]
YouTube
Much like the song itself, Tim McGraw's "Standing Room Only" music video will hit you right in the feels.
The music video opens with McGraw wandering through a field, when he stumbles across a baseball and mitt. Just as he crouches down to pick them up, images flash across the screen of a father and son playing catch.
Buy Tim McGraw Concert Tickets Here
In another area of the field is a white vanity — visions of a mother adorning her daughters with jewelry while admiring them in the mirror fill the screen.
This trend continues with other mementos that McGraw comes across: A bicycle from two lovers who spent romantic dates enjoying picnics by the water, an ice chest that was once filled with beers as a group of friends spent an afternoon fishing and a tire swing where a father pushes his daughter over and over in the sunshine while she laughed.
These moments are mixed with clips of McGraw singing the song in an old junkyard. He stands on a makeshift stage in the middle of a circle of cars which illuminate him from all angles with headlights. It's a gentle reminder of the passing of time — those cars were once shiny and new on a lot, but now they sit, rotting in a scrap heap.
The images play into the message of McGraw's song: No matter how you choose to live your life, it's still going to pass you by, so choose wisely.
"I wanna live a life, live a life / Like a dollar and the clock on the wall don't own me / Shine a light, shine a light / Like mama's front porch when I'm lost and lonely / Start forgivin' and start forgettin' / Be somebody that's worth rememberin' / Live a life so when I die / There's standing room only, standing room only / Standing room only, standing room only," he sings in the chorus.
"Standing Room Only" is the first track off McGraw's forthcoming album. Although he has yet to announce details about the project, like title, release date, etc., he began work on it in 2022.
The project will be his first full-length offering since 2020's Here on Earth.
Top 50 Tim McGraw Songs, Ranked
Whether it's party music or songs that stop you in your tracks, Tim McGraw's catalog has songs for every mood and emotion. Though the Louisiana native launched in 1990 with his self-titled debut record, it wasn't until the release of his sophomore project four years later that McGraw got the adoration of both country professionals and fans alike. These are the 50 best Tim McGraw songs, ranked.
More From 99.9 KEKB - Grand Junction's Favorite Country