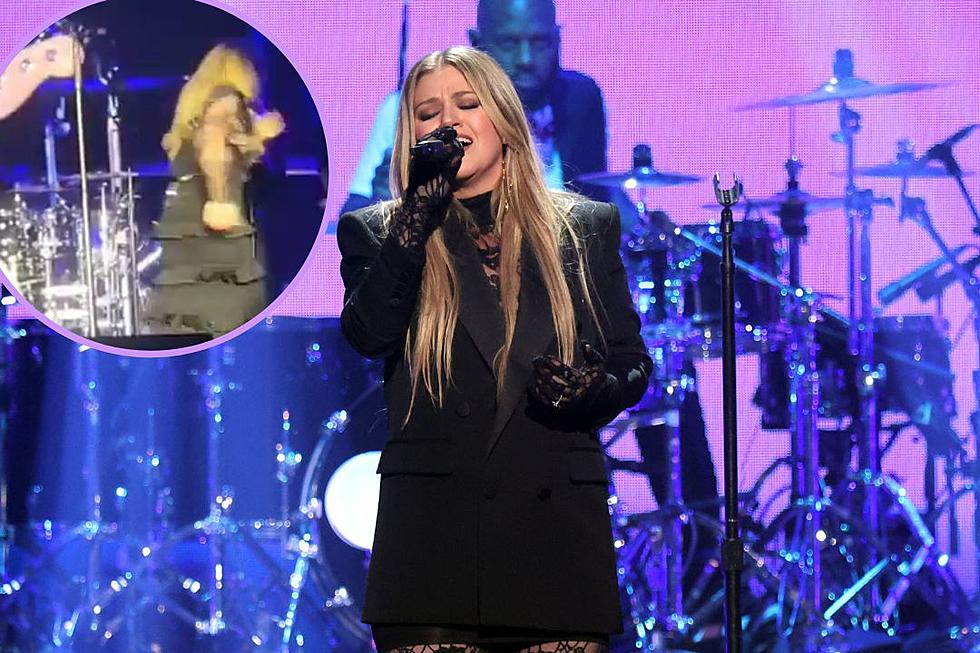 Kelly Clarkson Pauses Show for Embarrassing Wardrobe Malfunction [Watch]
Rich Polk , Getty Images, @clarksonvocals_ , X
Kelly Clarkson went viral last week when she stopped on the street in Las Vegas to sing a Tina Turner song with a street performer. That was intentional, but a stage faux pas that followed likely was not.
Clarkson faced an accidental wardrobe malfunction while performing a private show for Ecolab at U.S. Bank Stadium, in Minneapolis on Sept. 26.
Everyone was having a great time, as Clarkson began to break into one of her songs. She belted out one line, but stopped abruptly. Her band, seemingly confused, continued to play before the sometimes-country star put a halt to the show.
"Wait, hold on!" Clarkson said into the mic, telling the band to stop momentarily.
You can see Clarkson turning around to see herself on the giant screen behind her.
Then, she asks: "Should I fix it?"
She looks to a member of her team for help, then says matter-of-factly:
She darts off the stage to fix her dress. Video from the event shows it all go down, and you hear fans in the crowd laughing. Crowd chatter continues, and Clarkson returns from backstage, making a joke of the oopsie.
"What kind of show is this? I was told you wanted a really fun show," Clarkson jokes. "I'm so sorry, I think my hair got stuck in my tape. We're just gonna keep it a family show. My bad."
Clarkson has always had a one-of-a-kind, larger-than-life personality, and it really shows in this moment, as does her humility.
The superstar released a new album this year titled Chemistry.
Evan Paul is the host of Taste of Country Nights, a syndicated radio show heard on more than 120 country radio stations nationwide, every night from 7PM to midnight. He plays the best new country music and interviews today's top stars, like Luke Combs, Miranda Lambert, Dan + Shay, Keith Urban, Carrie Underwood, Luke Bryan, Chris Stapleton, Lady A, Morgan Wallen, + more! 
See Inside Kelly Clarkson's Spectacular New California Mansion
Kelly Clarkson has purchased a stunning new mansion in California, with the news breaking not long after the pop superstar and TV personality sold her palatial estate outside of Nashville.
Gallery Credit: Sterling Whitaker
PICTURES: See Inside Kelly Clarkson's Stunning California Mansion
Kelly Clarkson has sold her former family residence in the posh Encino area of Los Angeles, Calif., more than a year after initally listing it for sale. The pop superstar and TV personality received $8.24 million for the sale of her luxurious 8-bedroom, 11-bathroom, 10,108-square-foot house, which is slightly less than she and her now-estranged husband, Brandon Blackstock, paid when they purchased it in 2018.
Gallery Credit: Sterling Whitaker
2023 People's Choice Country Awards Red Carpet Pictures
The best dressed from the 2023
People's Choice Country Awards
include several bold fashion choices and plenty of mid-summer crop tops. See pictures from the red carpet at the Grand Ole Opry in Nashville, taken before Thursday night's (Sept. 28) live broadcast.
Gallery Credit: Billy Dukes
More From 99.9 KEKB - Grand Junction's Favorite Country