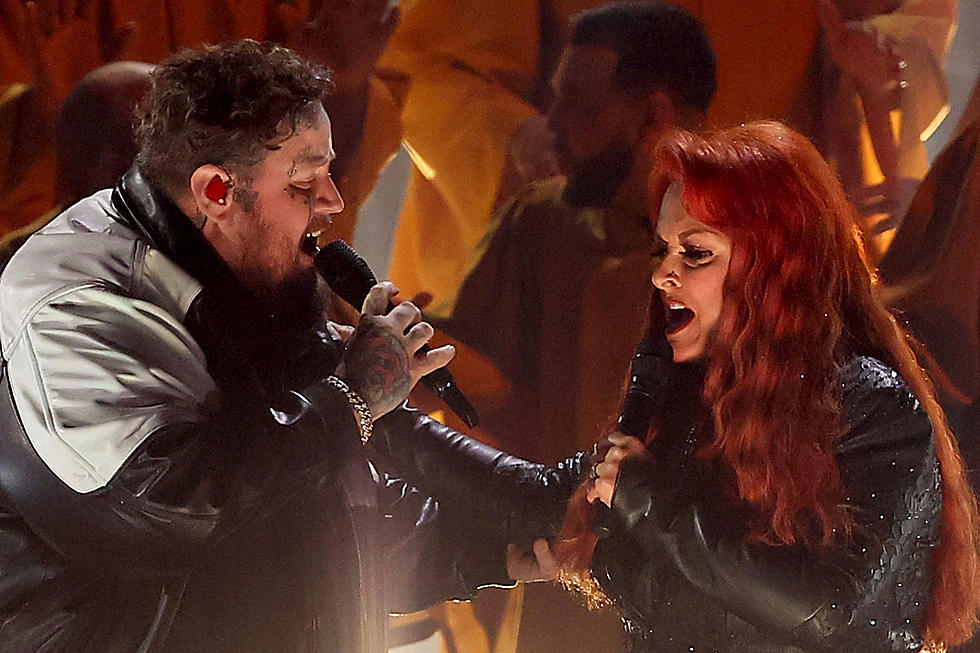 Jelly Roll Opens Up About CMAs Performance With Wynonna: 'I Could Feel It'
Getty Images
To fully understand Jelly Roll and Wynonna Judd's CMA Awards performance, you have to understand what happened during rehearsal.
Jelly Roll and Judd opened the 2023 CMAs with a performance of his song "Need a Favor."
Fans offered concern and criticism after the song, with many wondering if Judd might be battling a health issue.
After seeing the comments, Judd explained that she was just really nervous, and thus needed to hold Jelly Roll's arm for most of the performance, which was live.
Talking to Taste of Country, Jelly Roll said he believes Judd is fine, and he backed up her explanation. He also refutes the notion that she came to him immediately after appearing on stage because she knew she was in trouble.
"When we rehearsed it, the couple times we did it, there was a moment in there every time where we would touch each other's arm anyway, because we wanted to make it a point to make sure that it was a connected performance," he tells Taste of Country Nights' Evan Paul.
A video clip shared by Jelly Roll's wife Bunnie Xo finds him defending Judd with a passion. "First of all, Wynonna is the sweetest human on earth," he begins in a promo for Bunnie's Dumb Blonde Podcast. "Wynonna Judd did not have to do that."
"How are y'all gonna over look the fact that yeah, she might have been holding on to me, but she was blowing to the heavens," he adds.
Talking to ToC, he explained his thought process in the moment.
"I could feel it in how she was standing there that something was off with her, but I just couldn't tell what it was," the CMA New Artist of the Year says during a CMA-focused interview that will air in full on Wednesday's Taste of Country Nights, On Demand podcast. "I couldn't tell if she was dealing with ... some inner-ear stuff. I just couldn't tell."
Jelly Roll and Judd have become friends, with the country legend admitting to ToC earlier this year that his cover of "Love Can Build a Bridge" from the A Tribute to the Judds album was among her favorites.
The Taste of Country Nights, On Demand Podcast features new guests weekly. It's available on Apple Podcasts, Spotify or wherever you listen to podcasts.
12 Artists Who Didn't Attend the 2023 CMA Awards
Nearly 100 country stars attended the 2023 CMA Awards, but several superstars missed out. Here are 12 we missed in Nashville on Wednesday (Nov. 8).
Gallery Credit: Billy Dukes
2023 CMA Awards Red Carpet Pictures
The 2023 CMA Awards aired live on ABC from Nashville's Bridgestone Arena on Nov. 8. Luke Bryan and Peyton Manning hosted the show for a second straight year. Luke Combs, Carrie Underwood, Chris Stapleton, Lainey Wilson and Morgan Wallen were
nominated
in the Entertainer of the Year category.
Gallery Credit: Billy Dukes
More From 99.9 KEKB - Grand Junction's Favorite Country