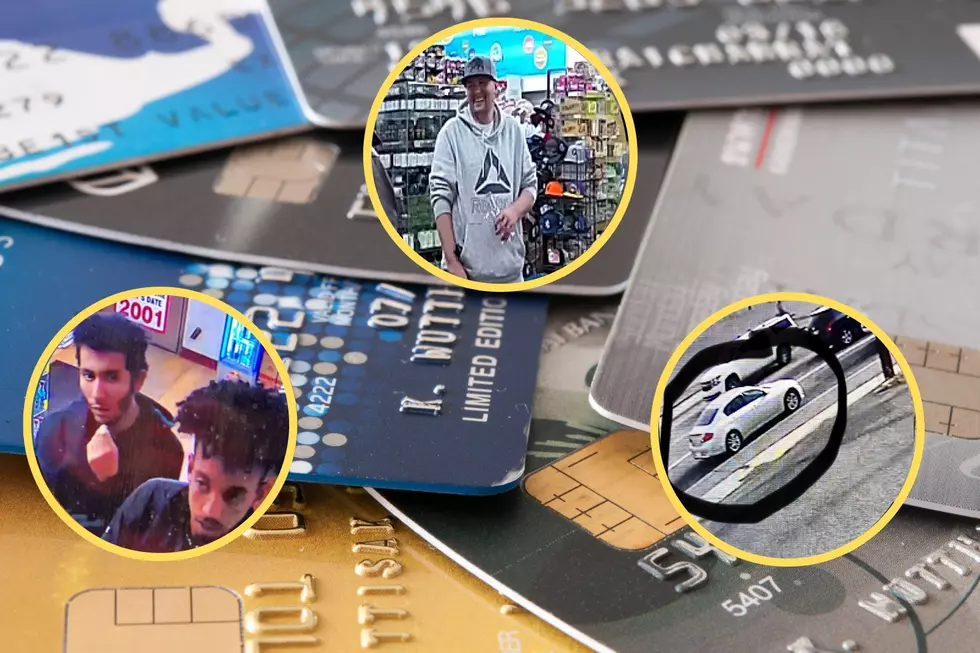 Grand Junction Credit Card Fraud: Police Looking For These Suspects
Mesa County Sheriff's Office/Canva
Local authorities are asking the public to help them locate suspects in recent fraudulent credit card cases in Grand Junction.
$800 Purchase With Stolen Credit Card
According to the Mesa County Sheriff's Office, two individuals used a stolen or fraudulent credit card to make two large purchases at the Trading Post Liquor Store at 2898 Highway 50 in Grand Junction. The purchases totaled more than $800.
Surveillance video captured images of the suspects as well as their vehicle as it left the store.  The suspects were described as a Hispanic male and the other a black male both "nicely dressed".  Their car was described as a small-medium sized, light-colored, 4-door sedan.
Second Attempt Was  Unsuccessful
Authorities say the two individuals apparently attempted another fraudulent purchase on the same day at Jack Rabbit Liquors on Unaweep, however, the purchase could not be completed.
Fraudulent Credit Card Used In Multiple Locations
In a separate case, the Mesa County Sheriff's Office is hoping to identify a suspect who used a fraudulent credit card at various locations before Christmas. Surveillance images of the suspect were captured at the Lucky Me convenience store at 29 Road and Patterson.
The suspect was wearing a light gray jacket, gray hat, and jeans - and was seen getting into a gray Dodge SUV. Do you recognize this individual?
Can  You Help Identify the Suspects?
If you recognize any of these individuals, you can contact the Mesa County Sheriff's Office, or submit a tip through Mesa County Crime Stoppers. You could earn a financial reward if the information you provide leads to an arrest.
Before and After: Clean Up of Illegal Mesa County Camps
Homelessness is a huge problem in Grand Junction, and it's a problem that bleeds over into the natural beauty of the Grand Valley. Scroll through the photos below to see the mess of illegal camps along the river in Mesa County, and the work that was done to clean it up.
Words And Phrases Grand Junction Is Tired of Hearing
Recently, I asked my friends and listeners to give me a word or phrase that drives them crazy. Scroll through the responses below to see which words and phrases are driving us bonkers. I wonder how many of these are a regular part of your daily vocabulary.
More From 99.9 KEKB - Grand Junction's Favorite Country