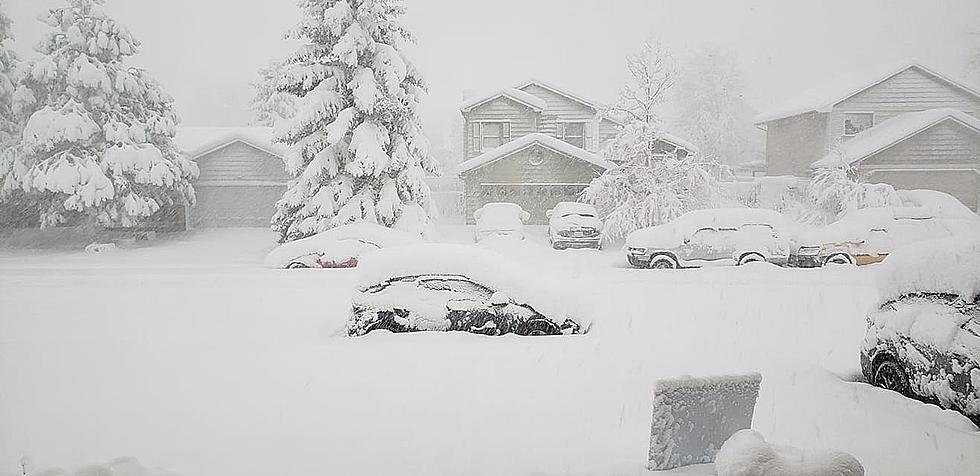 Front Range Area Snowfall Totals For Winter Storm 'Xylia'
Shanna Skonning/Submitted photo
While Colorado meteorologists were being heckled when there was no snow on Saturday morning, the weather experts got the last laugh in the end.
The late-arriving winter storm named 'Xylia' ended up dumping several feet across Colorado, becoming one of the largest recorded snowfalls in state history.
Thousands of flights were canceled from Denver International Airport over the weekend. Stretches of major roads like I-25, I-70, and U.S. 287 were closed to traffic. People were urged to avoid travel.
Numerous government offices, Colorado State University, and local schools not on spring break in Northern Colorado remain closed on Monday (March 15) as we dig out of the storm. The same goes for a number of local businesses.
While pre-storm estimates were all over the board, here's what the National Weather Service said was recorded for snowfalls in Colorado:
Winter Storm 'Xylia' Snowfall Totals
Buckhorn Mountain 42 inches
Aspen Springs 40.3 inches
Glen Haven 36 inches
Nederland 36 inches
Arvada 28.5 inches
Cameron Pass 28 inches
Denver International Airport 27.1 inches
Horsetooth Mountain 27 inches
Loveland 26 inches
Buckhorn Mountain 26 inches
Westminster 25 inches
Golden 24.5 inches
Erie 24. 5 inches
Boulder 24.4 inches
Fort Collins 24 inches
Firestone 23.3 inches
Brighton 23.2 inches
Berthoud 22.8 inches
Estes Park 22.3 inches
Mead 21 inches
Rustic 20 inches
Denver 19 inches
Wellington 18.8 inches
Longmont 18 inches
Timnath 17.4 inches
Greeley 17 inches
For a full list of snowfall totals, visit the National Weather Service site.
The Colorado National Guard was even deployed and assisted with search and rescue operations in Loveland on Sunday (March 14). Larimer County had requested support to citizens in the Redstone Canyon area.
A special thanks to the meteorologists in the state, who may not have got the exact timing right but did get the impact of the storm correctly in an effort to keep us all safe.
Across all of the Townsquare Northern Colorado properties, we asked for reader-submitted photos of the storm. Here's a number of our favorites.
PHOTOS: Winter Storm 'Xylia'
KEEP READING: Get answers to 51 of the most frequently asked weather questions...
How Many in America: From Guns to Ghost Towns
Can you take a guess as to how many public schools are in the U.S.? Do you have any clue as to how many billionaires might be residing there? Read on to find out—and learn a thing or two about each of these selection's cultural significance and legacy along the way.
More From 99.9 KEKB - Grand Junction's Favorite Country