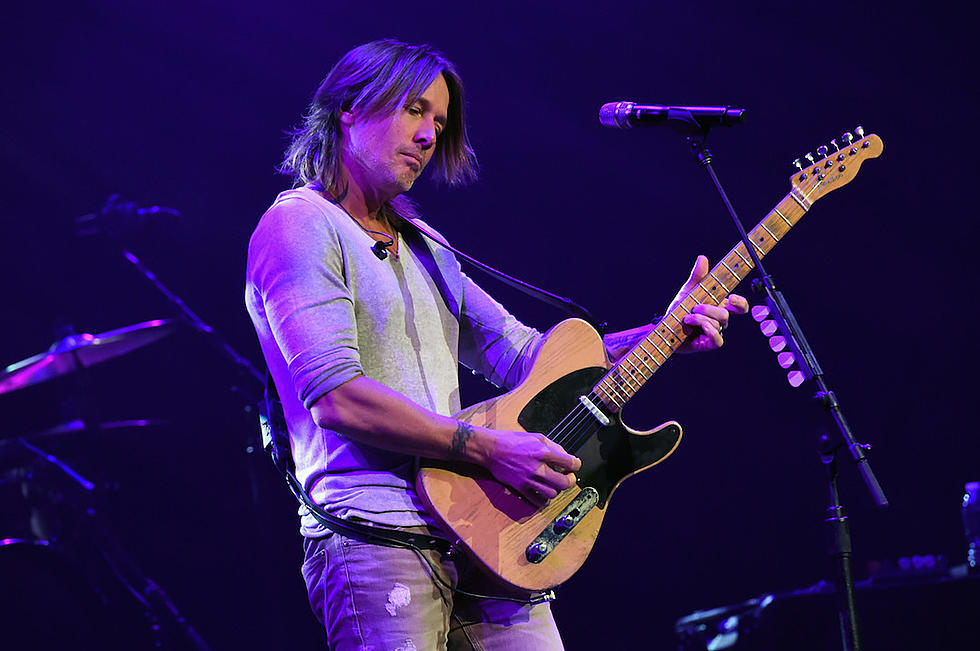 Everything We Know About Keith Urban's New Album, 'Graffiti U'
Rick Diamond, Getty Images
At a surprise pop-up show in Nashville on Jan. 17 at Exit / In, Keith Urban revealed some big news: A new album is coming soon! The singer will release the project, Graffiti U, in late April.
Not only does Urban have plans to release new music, but he will also be hitting the road in 2018 for a worldwide tour to celebrate Graffiti U's release. He'll be bringing Kelsea Ballerini along with him for the North American leg of the tour.
"I've been full-on writing, recording, collaborating and creating with some incredibly talented people for Graffiti U, a lot of whom I've never worked with before," Urban says in a press release. "I can hear how some of the songs will translate live already, which really makes putting on a new show so exhilarating, and I loved having our fans included in the announcement of the tour because it's their tour too."
For this album, Urban has focused on including his audience in every announcement, even briefly dueting onstage with a fan who is an aspiring country star herself. Read on to learn everything we know so far about Graffiti U.
The Title
Urban announced the title of his forthcoming album, Graffiti U, in his show on Jan. 17.
Why the U in the title? "Obviously it's the first letter of my last name, but I liked that when you say it, it's also the word 'You,'" the singer explains to Rolling Stone in an interview. "For me, that's the listener, that's the audience."
Urban made sure to include the crowd in his big announcement at Exit / In, even pulling a fan onstage to sing a duet with him during the show.
The Release Date
The Album Cover
World-renowned photographer Mark Seliger took the cover photo of Urban for Graffiti U. The album's title and Urban's name appear next to his face, partially shrouded in darkness.
The Record Label
Graffiti U will be released under Capitol Records Nashville. This is the same label that released Urban's self-titled debut album back in 1999, and that has been his label home since then.
The Producers
The producers of Graffiti U have not yet been announced.
The Single
Urban's November 2017 single "Female" will appear on the upcoming album, though his first official single from the project is "Coming Home." The song, which Urban dropped in late March, features pop artist Julia Michaels and is based around a sample of the guitar riff from Merle Haggard's "Mama Tried."
In January, Urban also teased a short clip of one of his new songs, "Parallel Line," in a video on social media along with the caption "1.19.18." As it turns out, that song is a single in Australia only; it was released on Jan. 19.
The Songs
Aside from the four songs Urban debuted at Exit / In -- "Parallel Line," "Texas Time," "Same Heart" and "Steal My Thunder" -- information about the songs on Graffiti U is still scarce. However, on April 5, Urban revealed the record's track listing via Instagram. That post revealed that the album will feature a number of collaborations with other artists, including Kassi Ashton and Lindsay Ell.
Keith Urban, Graffiti U Track Listing:
1. "Coming Home" (feat. Julia Michaels)
2. "Never Comin Down"
3. "Same Heart"
4. "My Wave"
5. "Parallel Line"
6. "Drop Top" (feat. Kassi Ashton)
7. "Way Too Long"
8. "Horses" (feat. Lindsay Ell)
9. "Gemini"
10. "Texas Time"
11. "Love the Way It Hurts (So Good)"
12. "Female"
13. "Steal My Thunder"
The Tour
Urban announced his Graffiti U World Tour with the help of his fans, via a video that features fans in cities across the country holding up tour stop dates written on white poster board. Check out the announcement by pressing play on the video below, or click here to see the full list of tour dates.
Who Else Is Going on Tour in 2018?
Unforgettable Keith Urban Moments
More From 99.9 KEKB - Grand Junction's Favorite Country