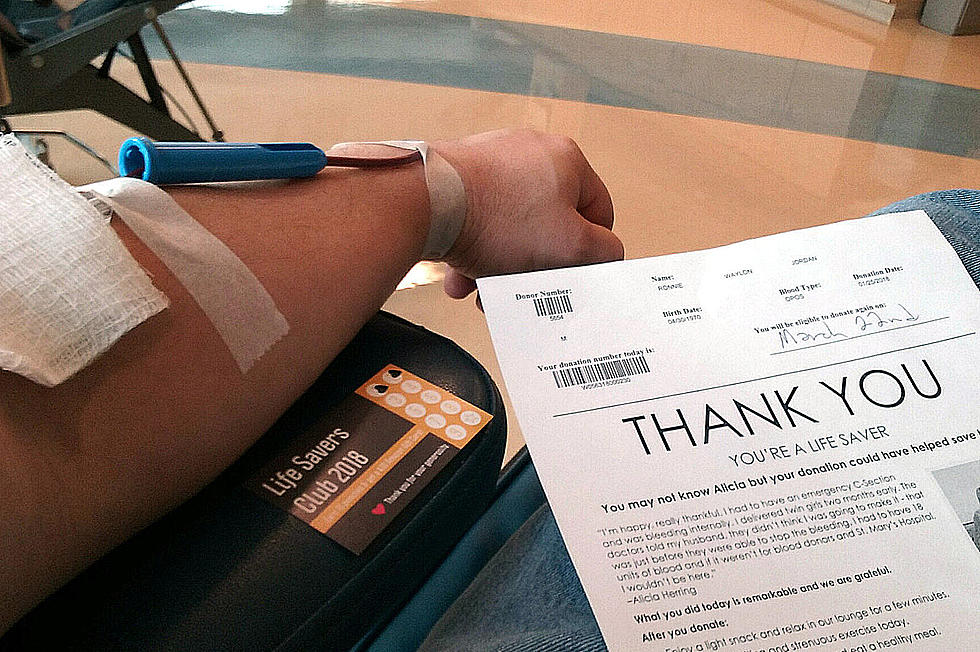 Donating Blood in Grand Junction In The Age of COVID
Waylon Jordan
Have you donated blood at Grand Junction's St. Mary's Regional Blood Center since the social distancing restrictions went into place? What's changed?
I donated blood earlier today, and let me tell you, it's every bit as easy, quick, and painless (for the most part) as it was before the pandemic.
Not Much Has Changed
By now you're probably thinking, "Oh no, here comes Waylon with another blood donation post." There are reasons behind my motivation when it comes to this topic.
Have you been hesitant to donate blood for fear the process would be too complex? Has COVID-19 motivated you to avoid the blood donation center?
How much has changed? To be as succinct as possible... almost nothing. Hardly anything has changed.
Yesterday, July 13, I received an urgent call from the blood center. It seems they are running a little low on my blood type. Being O positive, and long overdue for donating, it seemed time to schedule an appointment and donate blood.
Just like before COVID, the experience was absolutely painless and very rewarding.
The Few Things That Have Changed
You have to wear a mask. This one I forgot. Approaching the entrance at the St. Mary's Regional I was greeted by a number of signs reminding me masks are still mandatory.
That's about the only distinction between donating blood now as opposed to before COVID-19. There are a few minor, temporary adjustments that hardly warrant mentioning:
You have to use the south door (Entrance 26) at the St. Mary's Regional Blood Center rather than the north door.
You are asked to use the donor portal and schedule a time rather than simply walk in.
Seriously, that's it. Most people use the south door, Entrance 26, anyway. I'm about the only person I've ever seen using the north doors. The same goes for the donor portal. From what I've seen, most people typically schedule a time for blood donation.
Donating blood is what it is, with or without COVID-19
Before donating you have to answer a handful of questions asking if you've ever had sex for money with a circus performer who had lived in Romania sometime between 1973 and 1976. Once you answer those, the attendant takes your blood pressure and checks your blood type. Then it's off to the next room to donate.
Like always, the entire process took about 30 minutes. My appointment was at 10:00 this morning. When it was all said and done, the process of checking in, filling out the question, getting blood tested, donating blood, and then enjoying cranberry juice and more than my fair share of cookies, took barely half an hour. Here's a shot of the clock as I was on my way out the door after having spent a little leisure time in the "juice and cookie" section.
I'm a firm believer in donating blood. You never know when you or someone in your family might need blood. Wouldn't it be awesome to know there's a supply handy?
I strongly encourage you to make an appointment, bring your mask, and donate blood just like you used to back before March 2020. It's quick, painless, rewarding, and in the end, saves lives.
20 Awesome Movies Filmed in Colorado
Exotic Pets You Can Own in Colorado
More From 99.9 KEKB - Grand Junction's Favorite Country