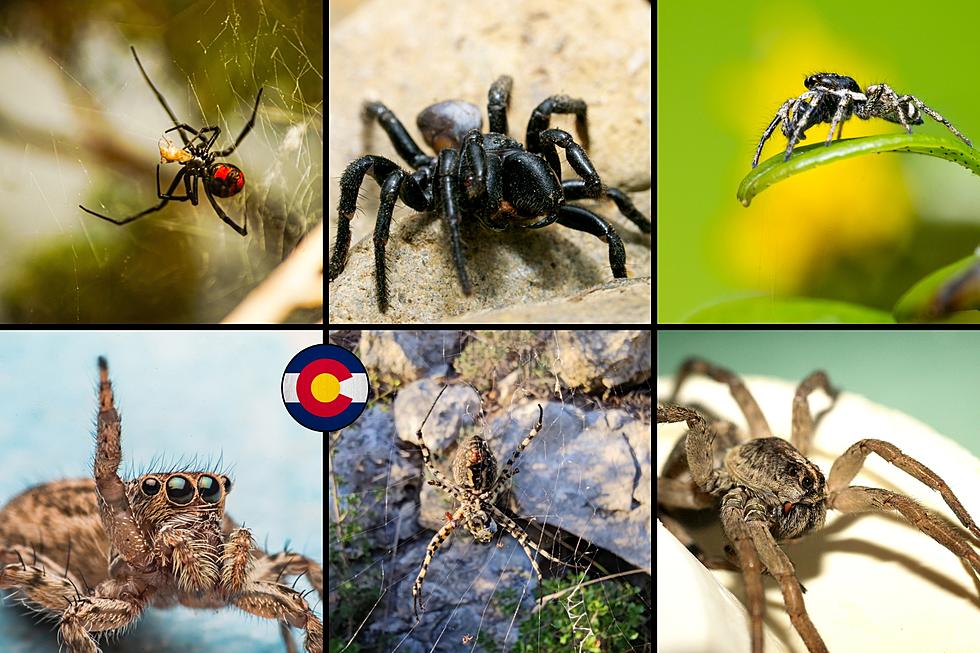 Don't Get Bit: 12 Venomous Spiders You May Run Into In Colorado
Canva Pro
I hate spiders. All shapes and sizes. A itsy bitsy spider makes me just as uncomfortable as a tarantula does, and I'm usually the first to squish them and ask questions later.
Colorado is not a state to be gun-shy in as we are home to a dozen different venomous spiders that can make people pretty sick.  Especially young children and pets. Keep going to see the twelve most common venomous spiders found in Grand Junction and around Colorado.
Highly Venomous Spiders in Colorado
The three most venomous spiders found in the Centennial State include the Southern and Nothern Black Widow spiders, as well as the creepy and nasty-looking Brown Recluse spider.
Bites from black widows, the brown recluse, or Colorado's hobo spider can all cause swelling, pain, and sickness. Some people will experience headaches, muscle cramps, and even difficulty breathing.
Less Venomous Spiders in Colorado
A number of less-venomous spiders are found in Colorado as well. While they are not as dangerous as black widows, these spiders are still venomous.
Hobo Spider
Carolina Wolf Spider
Banded Garden Spider
Striped Fishing Spider
Triangulate Cobweb Spider
Mouse Spider
Cat-Faced Spider
Zebra Back Spider
Apache Jumping Spider
Keep going to see the full list, along with the places these spiders like to hide so you can avoid encountering them.
What Should I Do If A Venomous Spider Bites Me?
Spider bites from a black widow, brown recluse, or some hobo spiders may require a trip to the ER or the doctor. If you have an especially bad reaction to a venomous spider bite, seek medical attention. Cleaning the bite wound, and applying an ice pack can help slow swelling and the spread of the venom.
Keep going for a closer look at Colorado's venomous spiders.
Don't Get Bit: 12 Venomous Spiders You May Run Into In Colorado
Colorado is home to several different types of venomous spiders that like to hide in your window wells and crawl spaces. Keep going to take a look at twelve venomous spiders that live here in the Centennial State and what to do if you get bit by one of them.
Gallery Credit: Wesley Adams
UP NEXT: Don't Get Bitten: These Tiny, Painful Bugs are in Colorado
Tiny, biting arthropods live all over Colorado. They can include spiders, flies, bed bugs, mites, and even lice. If you've ever seen a bug bite or a skin irritation that you could not find the cause of, arthropods are a likely suspect. Scroll on to see the most common ones found in the Centennial State.
Gallery Credit: Wesley Adams
LOOK: 7 Invasive Insects in Colorado You Should Kill Immediately If You See Them
Check out the 7 most invasive insects found in Colorado. Many feel these insects should be exterminated on site. Find out what they are, and which parts of Colorado's habitat they are attacking the most.
Gallery Credit: Wes Adams
More From 99.9 KEKB - Grand Junction's Favorite Country