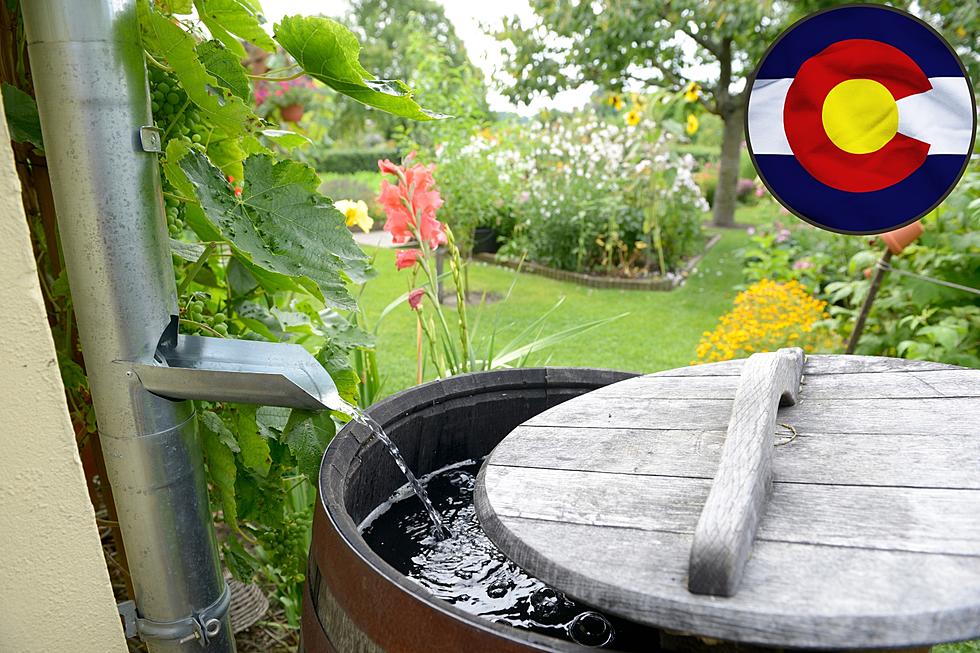 Is It Illegal To Collect and Save Rainwater in Colorado?
Canva Pro
Hot and dry summers in Western Colorado may have you thinking about new ways to keep your lawn and garden watered. One solution that works for some residents is to collect rainwater in a barrel for later use. Rainwater collection is legal in some places in Colorado under certain conditions.
The Colorado Division of Water Resources offers an easy-to-follow guide about collecting rainwater. Keep scrolling to find out if this is an option for you and your family and how much water you can store according to where you live.
Who Is Allowed to Collect Rainwater in Colorado?
According to Colorado statutes Section 37-96.5-103, C.R.S., any single-family home or multi-family residence with four or fewer units can collect rainwater from the roof into a barrel with a lid that seals.
You do not need a permit from the Colorado Division of Water Resources to do this.
How Much Water Am I Allowed to Collect?
Residents can collect rainwater in a barrel or barrels with a combined capacity of 110 gallons. According to House Bill 16-1005, these barrels can be refilled throughout the year.  Water in rain barrels is meant for outdoor use only. Use it for gardening, washing your car, watering your lawn, or refilling your hot tub. Water collected and stored in rain barrels should not be used for drinking.
Using Rain Barrels Legally in Colorado
Something as simple as collecting rainwater is made far more complicated than it should be by various laws over the years. Colorado water rights only allow for the collection of water in barrels when the water rights of a basin are satisfied. Several restrictions must be followed for the rain to be collected legally.
Tap this link to visit the water collection fact sheet from Colorado State University. This sheet spells out the conditions for using rain barrels under House Bill 16-1005, HB09-1129, and Senate Bill 09-080.
IT'S HOT: Grand Junction Picks the Toughest Jobs to Work in the Summer Heat
We asked you to give a shout-out to all the hard-working crews who work outdoors in the summer heat. Scroll through Grand Junction's picks for the toughest job to have outside during the triple-digit heat.
MORE: It Is Illegal To Throw These Things Away in Colorado
There are 14 items that should never be thrown out with the trash in Colorado. Check out this helpful list of hazardous waste reminders that should never go in the garbage in Colorado. While some of these items can be turned in on local hazardous waste collection days, six items on this list can get you into big trouble if you are caught dumping them at a landfill.
LOOK: Most Common Car Maintenance Mistakes that Get You a Ticket in Colorado
Take note of 11 common vehicle maintenance mistakes that could result in traffic violations, tickets, or fines in Colorado. See if any of the following items need to be checked on your vehicle before your next road trip.
More From 99.9 KEKB - Grand Junction's Favorite Country