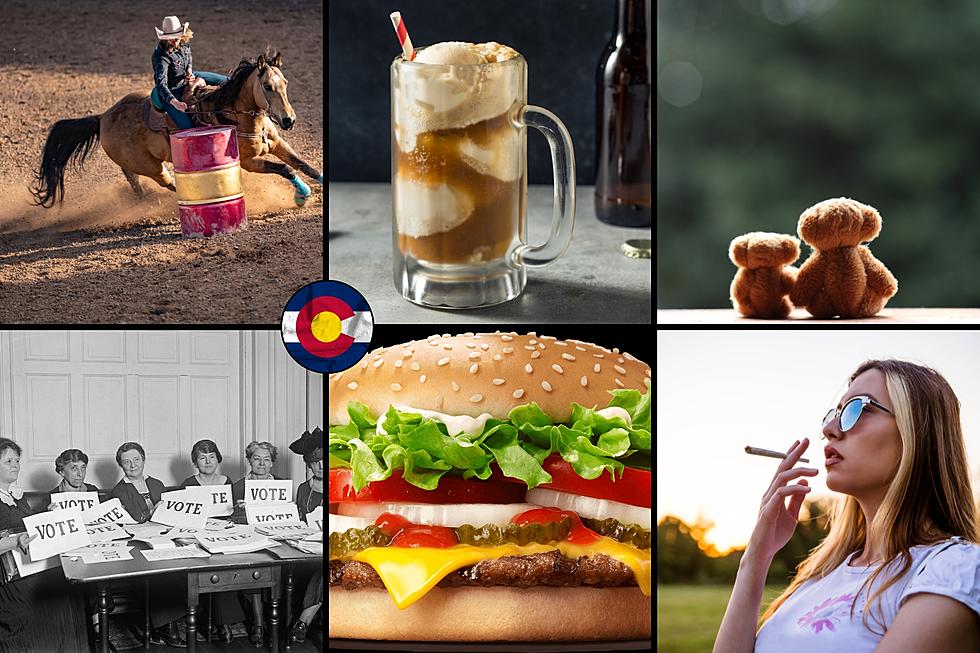 Colorado Was the First State in America To Have These 10 Things
Canva Pro
Colorado may not have become a state until August 1st, 1876, but that doesn't mean we've never been first to the party. How many things can you think of that started off right here in the Centennial State?
Colorado introduced the world to places like Casa Bonita and Chipotle. Colorado was the first state to approve the sale of medical marijuana and then recreational marijuana. What other things got started here? Open our station app to chat about some Colorado firsts that you remember.
America's Favorite Lunch Was Introduced in Colorado
The world can thank Denver, Colorado for introducing the name "Cheeseburger". The trademark went to Louis Ballast of the Humpty-Dumpty Barrel Restaurant in 1935. A granite marker explaining the site of Ballast's restaurant still remains to this day in Denver at 2776 N. Speer Boulevard.
Read More: Did You Know that the Parking Boot is Originally From Colorado?
Colorado Loves to Cuddle
Legend has it that the maids at the Hotel Colorado in Glenwood Springs stitched together America's first "Teddy Bear" and gifted it to then-President Theodore Roosevelt who visited Colorado many times.
Ladies First In Colorado
Colorado was the first state to give women the right to vote in America. The state enacted equal suffrage by referendum on November 7th, 1893. The rest of the country took until about 1920 to pass the 19th Amendment.
Keep going to see the list of ten things that started right here in the Centennial State.
Colorado Was the First State in America To Have These 10 Things
Over the years, the state of Colorado has been first many times. Despite being the 38th state added to the union, Colorado has been first several times when it comes to introducing new things. Scroll through the photos below to see ten different times when Colorado was the first state across the finish line with a new idea.
MORE: How Much Do You Know About the Odd History of Colorado and Wyoming?
Here's a deep dive of fun facts about Colorado and Wyoming for you to share at your next "Border War" party.
LOOK: Exploring the History of Grand Junction, Colorado: From Frontier Town to Small City
If you came to western Colorado in 1880, you probably never would have guessed how the valley would look in 2023. Check out a timeline of significant events that brought Grand Junction from the frontier to a small city from 1880 to 1900.
More From 99.9 KEKB - Grand Junction's Favorite Country