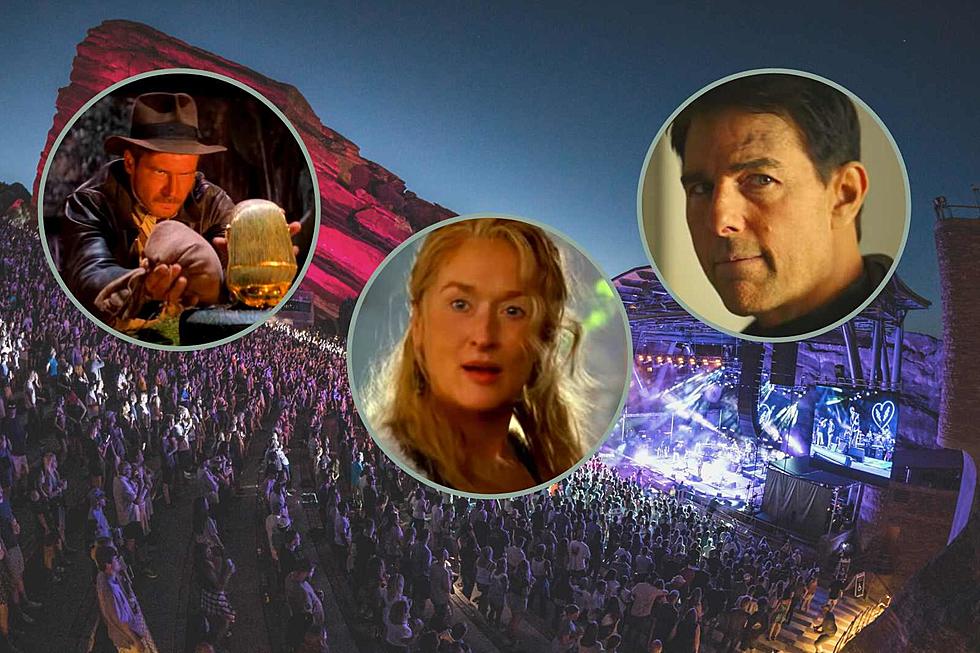 Colorado's 2023 Season of 'Film on The Rocks' May Be the Best Yet
Facebook/Red Rocks Amphitheatre, YouTube/Movie Station, Paramount Pictures
For five Mondays in the summer of 2023, movie fans will be able to see some of the best movies ever made at Colorado's best outdoor venue. You've seen some of your favorite bands at Red Rocks, why not some of your favorite movies?
Whereas the Beatles had the great song, "All You Need is Love." the theme of Film on the Rocks is, "All You Need Is Film." These summer movie nights have been going on for more than 20 years; and for 2023, they'll be going back as far as 40+ years to bring some of the greatest films to hit the big screen.
With a lot of seasons of Film on the Rocks, you generally "pick and choose" which ones you want to see. I believe that with the 2023 season, Denver Film has selected films that a mass majority of Coloradans would love to see at Red Rocks.
RELATED: 3 IMPROVEMENTS RED ROCKS IS MAKING TO YOUR EXPERIENCE
Spread the word with your friends and family about these five nights of cinema, because I think they appeal to a wide range of movie fans: They'll have an adventure, they'll have romance, they'll have Harrison Ford, Meryl Streep, Tom Cruise, to name a few. Seeing these under the stars at Red Rocks is really going to be a treat.
Tickets will run $20 for General Admission and $35 for VIP (reserved seats.) The doors will open at 6:30 p.m. for each Monday's movie night, with a local performer taking the stage at 7:30 p.m. The movies will begin at 8:30, as the sun officially goes down. So, we'll get a concert and a movie for each night; a great way to be introduced to some of the great bands the Denver area has, while seeing a movie you already know and love.
WHAT 5 MOVIES WILL THEY BE SHOWING AT RED ROCKS THIS SUMMER?
Colorado's Awesome Red Rocks Amphitheatre Schedule For Spring 2023
It's officially spring, and before long we'll all be heading outdoors. How about taking in a concert at one of the highest-rated performance venues in the United States? Red Rocks Amphitheatre in Morrison, Colorado, has posted its concert lineup for 2023.
There are hundreds of shows coming your way over the course of the year. Let's break it down to the amazing shows coming to Red Rocks during the spring months. It's an amazing lineup, with some acts performing multiple days. Look closely at the schedule so as not to miss anything. Some dates have two acts.
11 Essential Things To Know About Concerts At Red Rocks Amphiteatre
Attending a concert at Red Rocks is an awesome experience, but the best way to guarantee a fabulous night out is to go prepared and to know what to expect when you get there. Here are some essential things to know before you go.
Check Out Red Rocks' Secret Tunnel
Beneath Red Rocks Amphitheater is a tunnel filled with autographs of famous musicians.
More From 99.9 KEKB - Grand Junction's Favorite Country