The New Mayor in a Colorado Town is Literally an Ass
TCRAS Facebook
Politics in Colorado have completely gone animalistic and the new mayor of one Colorado town proves it.
The Teller County Regional Animal Shelter (TCRAS) recently played a huge role in running the election for the new mayor of Divide, Colorado.
Facts About Divide, Colorado
Divide, Colorado is located in Teller County approximately 25 miles west of Colorado Springs. The town of Divide sits on the top of Ute Pass at an elevation of 9,117 feet. The most recent population of Divide was reported with 67 residents.
Who is the Mayor of Divide, Colorado?
The recently announced winner of the 2022-2024 mayoral election in Divide is Clyde the Mammoth Donkey. Clyde is 7 years old and was sponsored by ​Running D Ranch.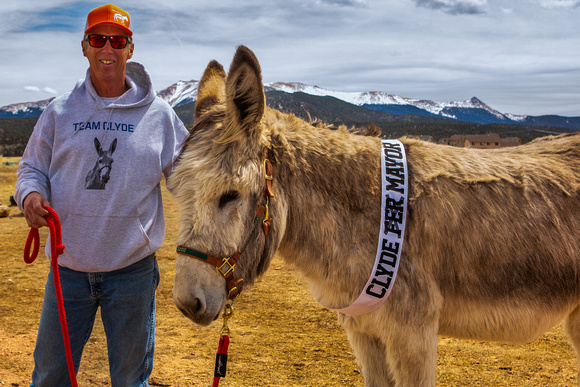 Clyde ran a strong campaign with slogans like:
"Vote for Clyde or you can kiss my backside," and ​"Clyde is all ears for a better Divide!" 
Clyde also had an amazing campaign promise:
"I will bring visibility and attention to all rescue animals with a distinctive visual presence that very few rescues have in public," Clyde stated in his official election nomination.
With a great campaign team behind him, Clyde swept in over 5,000 votes!
The stress of handling 67 residents won't just fall on Clyde's shoulders though because he has plenty of help. The mayoral election of Divide also named two vice mayors, a couple of canines named Cinna and Maizey.
The Former Mayor of Divide, Colorado Has No Hard Feelings
If you're wondering who the former Mayor of Divide is, it's a Greater Swiss Mountain dog named Piper.
Don't worry about Piper losing her title of Mayor either, she happily passed on the title. Piper did an amazing job serving as Mayor of Divide from 2020 to 2022.
How Does the Election for Mayor of Divide, Colorado Work?
Every other year the Teller County Regional Animal Shelter holds an election to find the next Mayor of Divide. Any animal is eligible to run for mayor, with the exception of humans.
Once nominated, the public is able to cast their votes by donating $2 per vote. All of the proceeds benefit the animals at TCRAS.
This year TCRAS was able to raise $41,040 with 19,093 votes.
Congratulations to the new mayor of Divide, Clyde!
Look: Super Cute Wild Burros in Colorado Say 'You Shall Not Pass'
Kim Mock came across these super cute wild burros in Colorado. Take a look at the pictures of them surrounding her car and telling her 'you shall not pass.'
39 Colorado Animals You May Run Into
A large variety of wildlife is just one of the many perks of living in Colorado. Check out this list and count how many of these animals you've seen in person.
100-Acre Colorado Ranch is the Perfect Getaway For Animals Lovers
You can stay on a 100-acre ranch in Carbondale, Colorado with horses, zebus, alpacas, and more.
More From 99.9 KEKB - Grand Junction's Favorite Country