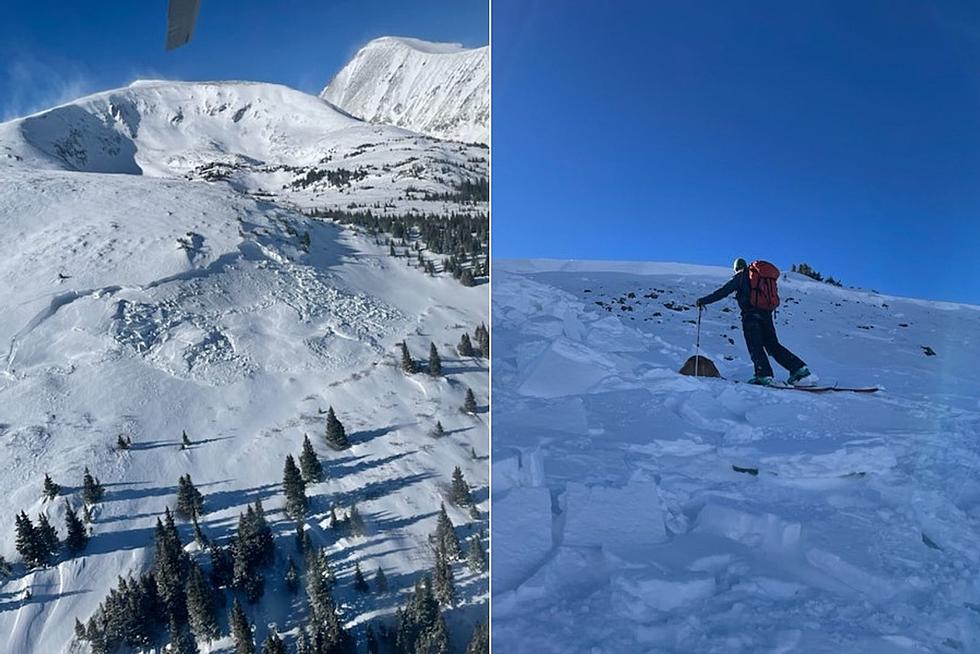 Two Colorado Snowshoers and A Dog Killed In Weekend Avalanche
Summit County Rescue Group via CAIC
A day of fun in Colorado's backcountry turned deadly over the weekend.
Tragic Colorado Weekend
Two outdoor enthusiasts and their dog perished Saturday when they were caught in an R3 avalanche while snowshoeing near North Star Mountain on Hoosier Pass. The pass is located about 11 miles south of Breckenridge in Summit County.
Snowshoers Were Reported Overdue
According to the Colorado Avalanche Information Center, the two snowshoers were reported overdue following an outing on Saturday. Deputies from the Summit County Sheriff's Office volunteers from the Summit County Rescue Group, and Flight For Life began searching areas west of Hoosier Pass. Searchers found evidence of a recent avalanche and faint snowshoe tracks on a flank of North Star Mountain.
Victims Located By Rescue Dog
Both individuals and their dog were located by an avalanche rescue dog. All three were completely buried by avalanche debris and all three were deceased. Their identity has not yet been released.
Avalanche Was 400 Feet Wide
The CAIC says the avalanche broke about 400 feet wide and ran 250 vertical feet and broke into old snow layers. The CAIC staff will visit the site Monday and have a full report later this week.
Avalanche Danger Across the State
The avalanche danger in Colorado over the weekend was at level three in the northern mountains and at level two in the central and southern mountains. The CAIC says the danger level is currently trending downward but the trend varies in different parts of the state. It's getting harder to trigger an avalanche in Colorado but, the CAIC says when you do  "it's going to be big."
Dangerous Road: Colorado's Wolf Creek Pass
Wolf Creek Pass is a beautiful Colorado drive, but in the wintertime it is one of the most dangerous roads in Colorado. Here are 10 interesting facts about this fascinating road on the Continental Divide.
Colorado's 20 Largest Wildfires of All Time
Colorado's 20 largest wildfires have all taken place since the year 2000.
More From 99.9 KEKB - Grand Junction's Favorite Country