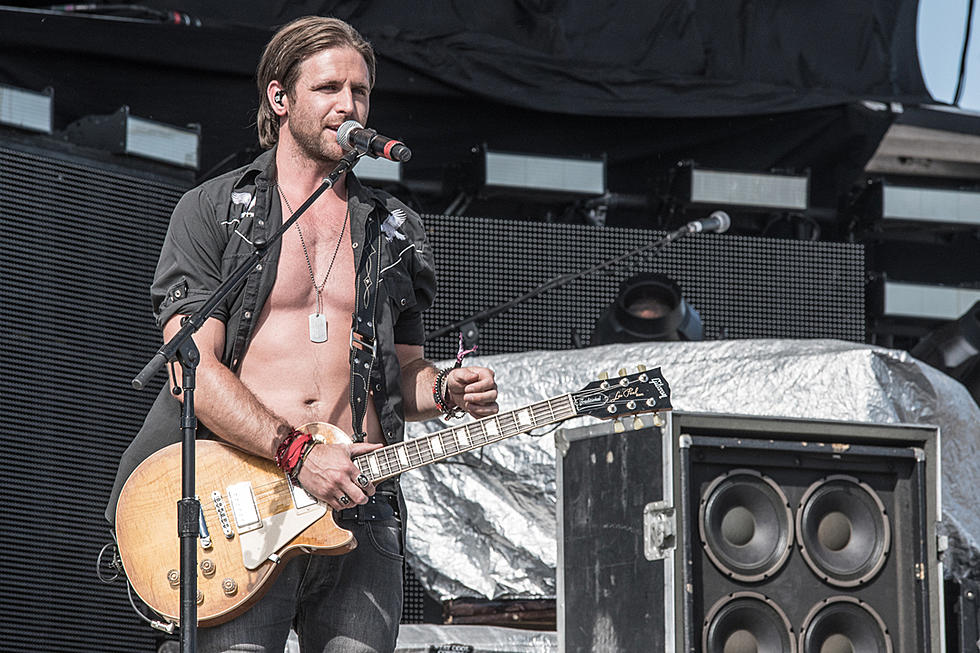 Canaan Smith Brings His Abs, New Music to Country Jam 2016
Chad Johnson
Canaan Smith began his set Sunday afternoon (June 19) at Country Jam 2016 with the band's monitors blown. But although the musicians were unable to hear each other on the stage, that didn't slow them down one bit as they kicked off their hour-long energetic performance with current single "Hole in a Bottle." The guitar-heavy song had Smith taking a swig of whiskey before sharing the remainder of the nearly-empty bottle with fans in the front row.
"Damn, look at this view. I can't believe I've been missing out for 25 years," he said, admiring the Rocky Mountains in the distance of Grand Junction, Colo.
Smith, who took the stage with his shirt completely unbuttoned — much to the delight of the females in the front row — captivated with his high intensity set which was just as much country as it was rock 'n' roll. Backed by three guitarists, the relative newcomer was quite the guitar showman himself. On his impressive cover of the Goo Goo Dolls' "Iris," Smith could be found back to back with his guitarist center stage as both leaned together slowly — almost in a back-bend — while they shredded along to the song.
While the audience sang with him during set closer "Love You Like That," his first No. 1 off debut album Bronco, they also listened intently to his new songs. Feel-good tracks like "Summer and a Six Pack" and "Come Back to Virginia" were a hint of what's to come for the singer, and both songs promise additional radio hits are in his future.
Smith's performance was versatile and included ballads like "One of Those" and "Stuck," both of which impressed. However, it was on Smith's high-energy, guitar-driven tracks like "Good Kinda Bad" and "American Muscle" that demonstrated his gift as a performer. While he may be opening for headliners Zac Brown Band at events like Country Jam, Smith's name will be first on the bill in no time.
Country Jam 2016 celebrated its 25th anniversary this year.
More From 99.9 KEKB - Grand Junction's Favorite Country