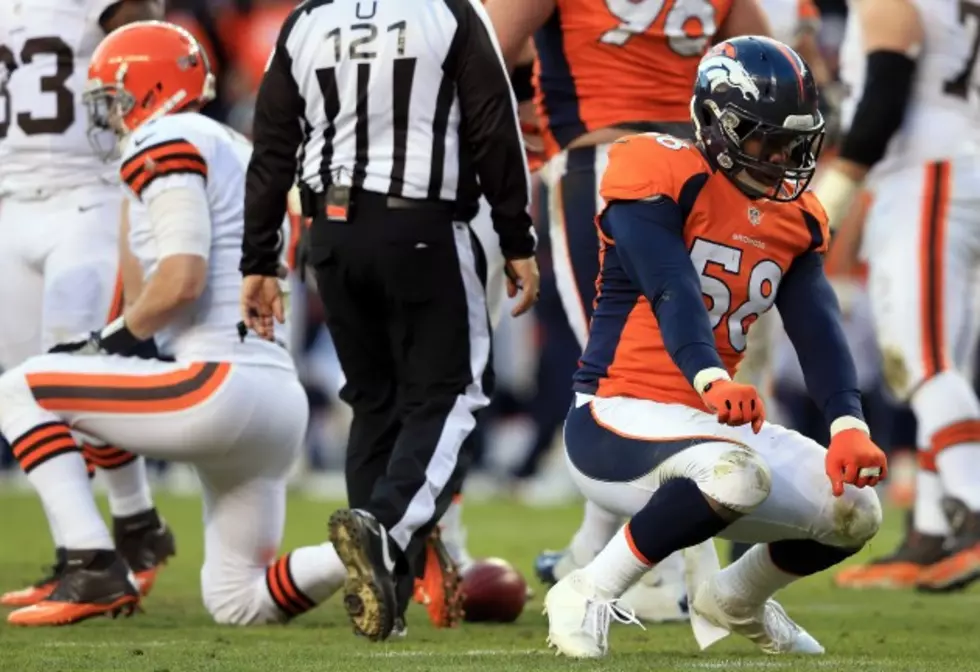 Broncos' Von Miller Facing Possible Suspension
(Photo by Doug Pensinger/Getty Images)
We already know the road to the Super Bowl for the Denver Broncos will not be an easy one. It never is - even when Peyton Manning is the quarterback. Good fortune regarding injuries at key positions is always essential to a team's run at the big game. You also need to have key players on the playing field, playing football. One of the key players for the Broncos this year will be last year's Defensive Player of the Year runner-up Von Miller - and it's possible that he is going to miss one-fourth of the Broncos regular season.
The Denver Post is reporting that Miller is facing a four game suspension for violating the league's policy. Exactly what policy has been violated is not immediately clear. ESPN reports the suspension is under appeal - a process that could be resolved prior to the start of the season, or one that could linger deep into the regular season.
When the Denver Broncos chose not to re-sign Elvis Dumervil, it was assumed that there would be question on the other end of the line, where the Broncos expect Miller to wreak havoc on opposing quarterbacks. Now, the Broncos don't have Dumervil and very possibly will be without their best defensive player for four games.
It's not a death sentence for the Broncos' Super Bowl chances, but it certainly makes the road to get there a whole lot tougher.
Miller said today via Twitter, "I know I did nothing wrong.I'm sure this will be resolved fairly."
More From 99.9 KEKB - Grand Junction's Favorite Country