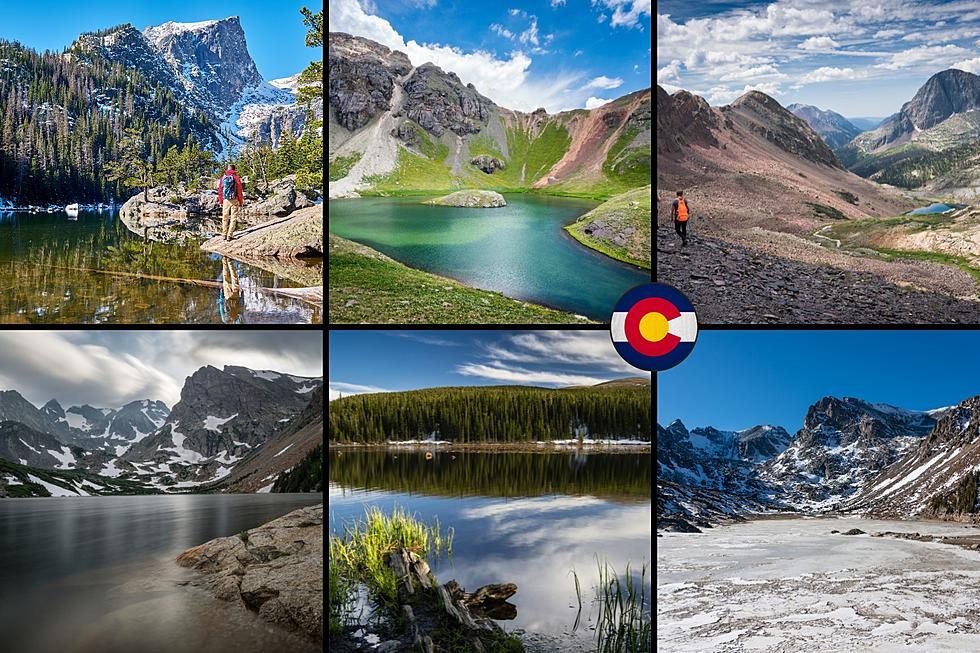 7 Hidden Colorado Lakes Most People Don't Even Know About
Canva Pro
Have you ever been scrolling through Instagram only to find a photo of a mountain lake in Colorado that you didn't even know about? This is actually pretty common in a land with more than a few thousand lakes and reservoirs. 
Colorado's mountain lakes are some of the prettiest places on earth. Keep scrolling to take a closer look a seven lakes that most people have never seen with their own eyes.
Colorado's Hidden Mountain Lakes
If you are willing to get out on the trails, Colorado's beautiful mountain lakes are ready to reward you for your efforts. While Longs Peak is a popular 14er mountain you can climb, you don't have to finish the 12-hour hike to see a beautiful mountain lake. Chasm Lake sits on the side of Longs Peak and is only about 4.5 miles up the trailhead. Reaching this lake is totally worth the effort. We'll take a closer look in the gallery below.
Colorado's Highest Mountain Lakes
If you don't mind elevation then head to the San Juan Mountains and Colorado's Ice Lake Basin. This is one of the prettiest places to visit in Colorado if you can acclimatize for the journey. Hiking to Colorado's Ice Lakes at over 12,000 feet is not an easy task and it's nearly impossible to do during the winter. We'll take a closer look at Ice Lake and Island Lake below.
Colorado's Most Remote Lakes
Summer weekends are a great time of year for extended hikes and camping trips through some of Colorado's most beautiful wilderness. The 17-mile route to Snowmass Lake is one of Colorado's most remote places with an amazing payoff. Bear canisters are required if you camp overnight.
Keep going to see seven of Colorado's mountain lakes that belong on your hiking bucket list.
7 Hidden Colorado Lakes Most People Don't Even Know About
The Centennial State is home to more than 3,000 lakes and reservoirs that are a popular destination for tourists and locals alike. While some of the larger reservoirs are more easily accessed near larger cities, several hiking trails leading into the mountains can take you to some of the most breathtaking bodies of water that many people didn't even know existed.
Gallery Credit: Wesley Adams
UP NEXT: These are Colorado's Largest Lakes and Reservoirs
These are the largest lakes and reservoirs in Colorado. Without them, parts of the state would not last in the high desert climate. Find out more about their location, volume, and elevation from largest to smallest.
Gallery Credit: Wes Adams
KEEP GOING: Here is Where to Find 12 of Colorado's Beautiful Blue Lakes
Colorado's Blue Lakes are the perfect place for a day trip or a relaxing vacation. While most of Colorado's largest Blue Lakes are in higher elevations, some can be found below 10,000 feet. Keep going to check out 12 of Colorado's beautiful Blue Lakes and where to find them.
Gallery Credit: Wesley Adams
More From 99.9 KEKB - Grand Junction's Favorite Country