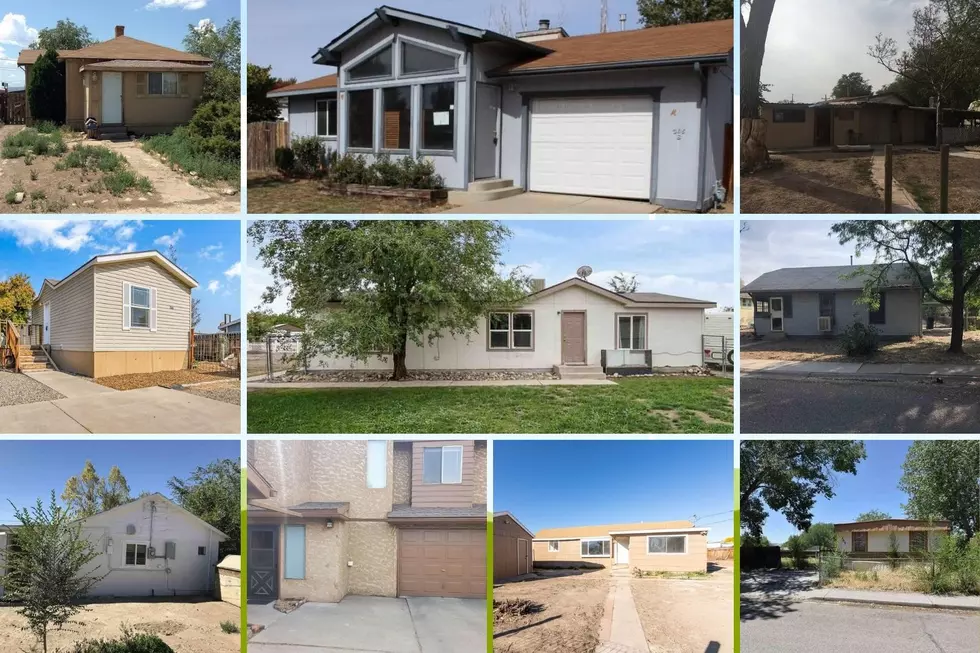 10 Houses in Grand Jct. You Can OWN for Less Than $600 a Month
Realtor.com
Are you looking for a new home in Grand Junction? Would you like to own a house for less than what the average apartment rents for? Here are 10 houses currently on the market in Grand Junction with estimated monthly mortgage payments coming in below $600.
Why do I keep posting about these real estate deals? I'm not a realtor, do not represent any realtors, and in no way receive any commission, credit, or kick-backs on these posts.
Looking back on my life, regardless of what the world dealt me at any given time, the one thing I've always enjoyed was a decent, safe roof over my head. Growing up in Grand Junction, my family occasionally went through rough times. My dad would get laid-off from work, and we'd have to go without for several months. Money would get real tight really quick. For that matter, my family suffered a major medical crisis which left us financially devastated for years.
Through it all, though, we had a home to call our own. The homes we lived in weren't necessarily castles, but they were warm, safe, and ours. Buying a house is one of the most stressful things you'll ever do in your life. Trust me, I've bought a few. But, it's one of the most rewarding experiences of your life, too.
Below you'll find ten houses with mortgages coming in at a fairly civil rate. Housing expesnes are a fact of life. Regardless if it's rent or a mortgage, having a roof over your head costs money.
You'll quickly notice most of these houses are not opulent, nor are they newer construction. I would ask you to consider a few things. Even if you bought a brand new home, there are numerous things you'll need to do to make it "yours." With that in mind, if you buy an older home, it's obvious you'll need to do some work. Some of those adjustments, though, are things you would have to do anyway, even with new construction.
Enter your number to get our free mobile app
I bought a brand new home 20 years ago. Within a fairly short period of time I had to:
build a fence (per HOA requirements - costing me about $4,000 doing the work myself)
landscape (did it myself, costing thousands)
the new house did not come with appliances, so those had to be purchased (no different than buying new appliances for an older home)
install a garage door opener (not essential, but they sure come in handy)
Take a look at these homes currently on the market in the Grand Junction area. Using the payment calculator provided by Realtor.com, these houses would have estimated monthly mortgage payments below $600.
Grand Junction Homes Under $600 a Month for Oct 21 2020
Downtown Grand Junction Businesses of Yesterday
More From 99.9 KEKB - Grand Junction's Favorite Country